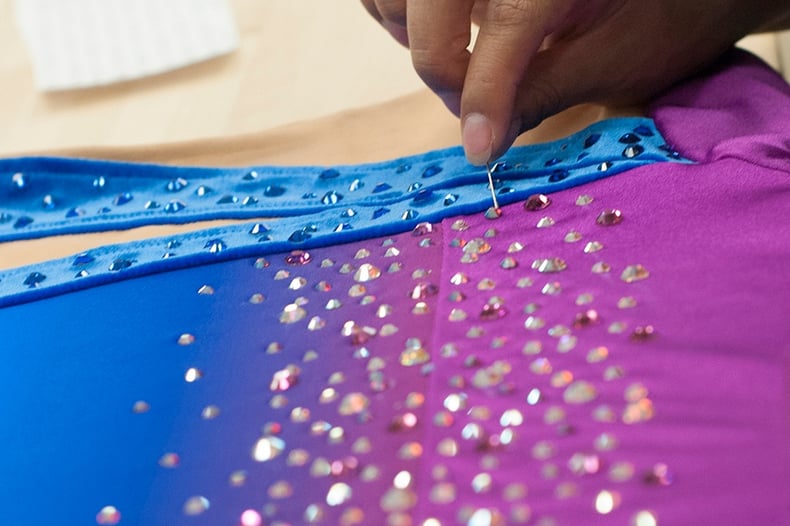 Rhinestones are the perfect finishing touch to any costume, but often the biggest question we hear is: how many rhinestones do I need? It's a tough question to figure out especially when:
100 gems sounds like a lot, but is actually on the low end of the price spectrum,
Design illustrations can be poor representations of a finished rhinestone design because it's difficult to represent gem size and placement accurately,
Minor tweaks in spacing can drastically effect the quantity of rhinestones.
If you're trying to figure out the number of rhinestones you need for your next dance costume, check out these 4 easy methods, below!


1. Start with Your Budget
The easiest way to establish a quantity for rhinestones is to see what your budget can afford, and then work backwards to determine the amount of stones. For example, if you have $50 left in your costume budget for rhinestones, divide that by the cost per rhinestone to get a total amount of stones ($50 budget / $0.11 cost per stone = 454 stones).
Another big factor is labor cost. If your team is up for rhinestoning your costume yourself, this will save you a lot of money - money that could be better spent on additional crystals!
For tips on DIY methods, check out these tutorials: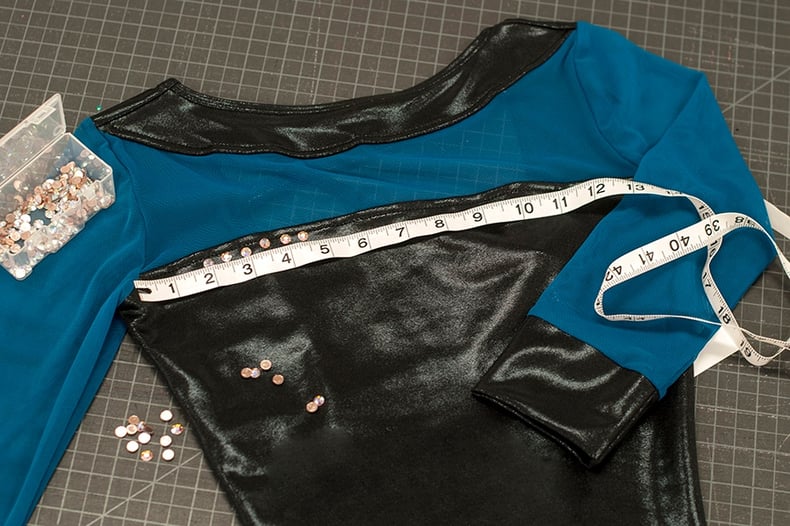 2. Use Another Costume as a Guide
What if your budget is flexible, but you have no idea what 100 versus 1000 stones looks like? Use the photos below as a guide. It's surprising how 200 stones concentrated in a small area can look just as great as 1200 stones scattered over a whole costume. Placement and density of stones can drastically change the overall effect of your rhinestone design!
40-100 Crystals: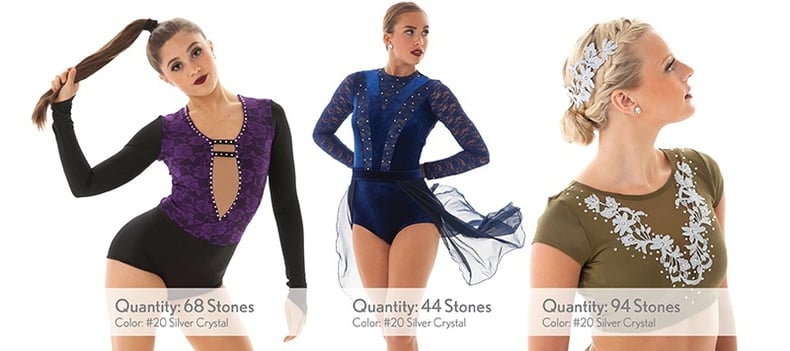 Estimated cost: $4 - $11 DIY, or $15-36 Stoned for you
Styles left to right: Emmaline Biketard, Chancy Leotard with Detachable Brookfield Skirt, Mika Top Applique
100-200 Crystals: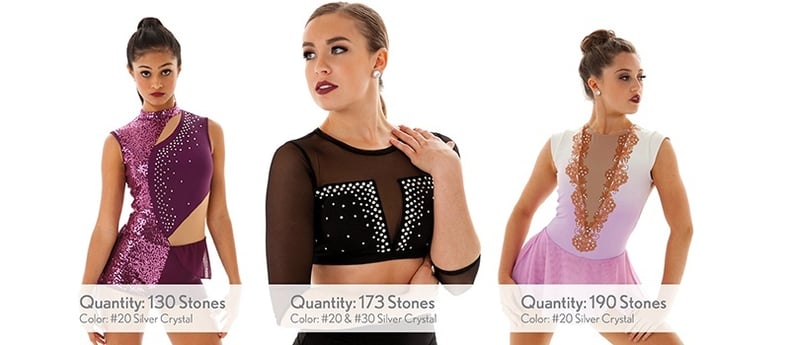 Estimated cost: $14 - $22 DIY, or $45-72 Stoned for you
Styles left to right: Anora, Mika Three-Quarter Sleeve, Cora
200-300 Crystals: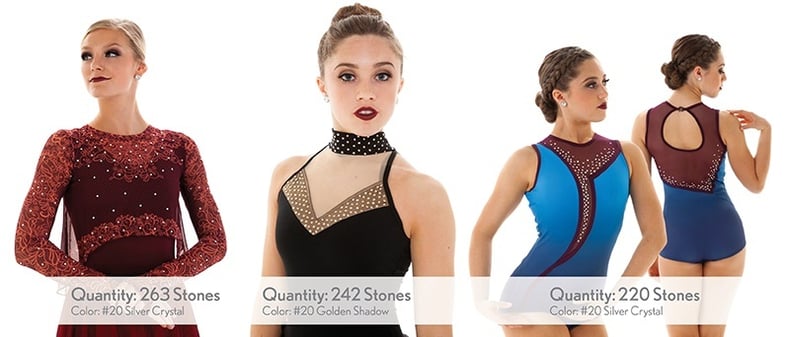 Estimated cost: $22 - $33 DIY, or $72-108 Stoned for you
Styles left to right: Baylor Chantilly Skate, Chiva Dress, Evangaline Leotard
300+ Crystals: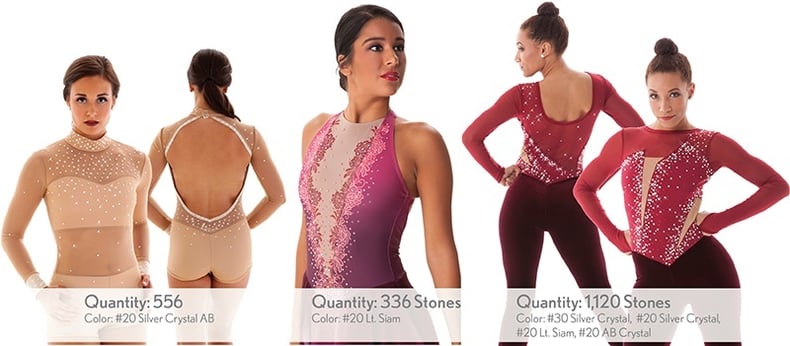 Estimated cost: $33+ DIY, or $108+ Stoned for you
Styles left to right: Jupela, Raelyn Skate, Custom Costume for St. Francis High School (2016)
3.

Measure for Lines of Stones
If you are stoning along necklines, trim pieces, or in lines, the easiest way to estimate is to use a simple per-inch formula. Measure the length of trim or lines in inches, and multiple that by how many stones per inch you would like.
To get an idea of what density you would like, try marking dots on your costume with removable fabric markers or chalk, or take a look at the images below as a rough guide. Its amazing how much a little extra spacing can lower the quantity of rhinestones!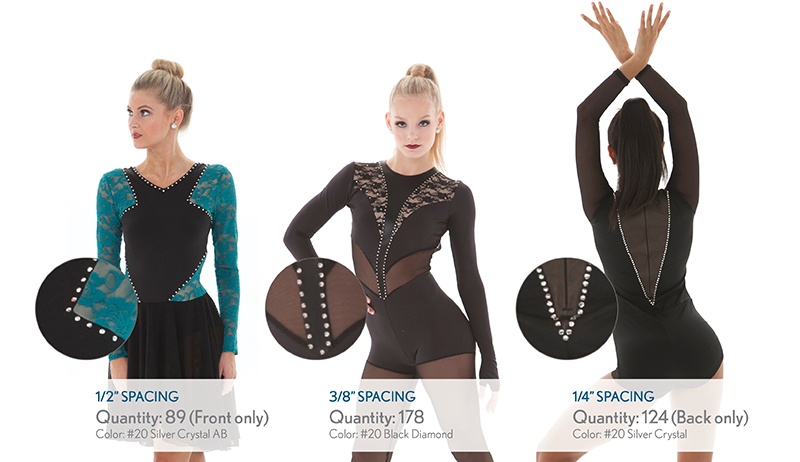 4. Stone One Costume as a Sample
The best way to figure out how many rhinestones you need is to actually stone one of your costumes. This is also the trickiest way because you'll need to wait for your sample costume (or final order) to be completed in order to plan, but in the end it will give you the most accurate rhinestone count.
If you're nervous about gluing stones down, try laying your costume flat and placing the stones without glue to get an idea. This will also help you pick the best rhinestone color to coordinate with your costume's fabric.
Better yet, once you've stoned one costume, you can use it as a guide to stone the rest!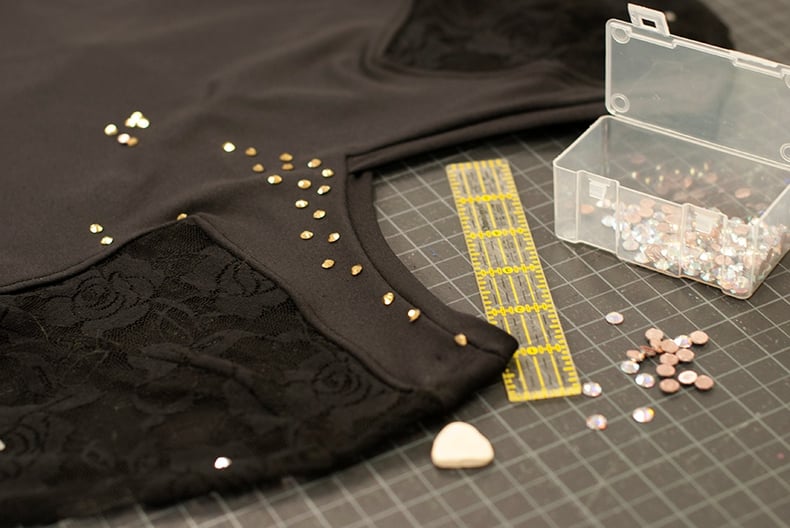 So there you have it - four easy ways to estimate the number of rhinestones you need for your next dance costume or skate dress. Have any other great methods of your own? Drop us a line below - we'd love to hear!
---
Recommended Blogs:
---