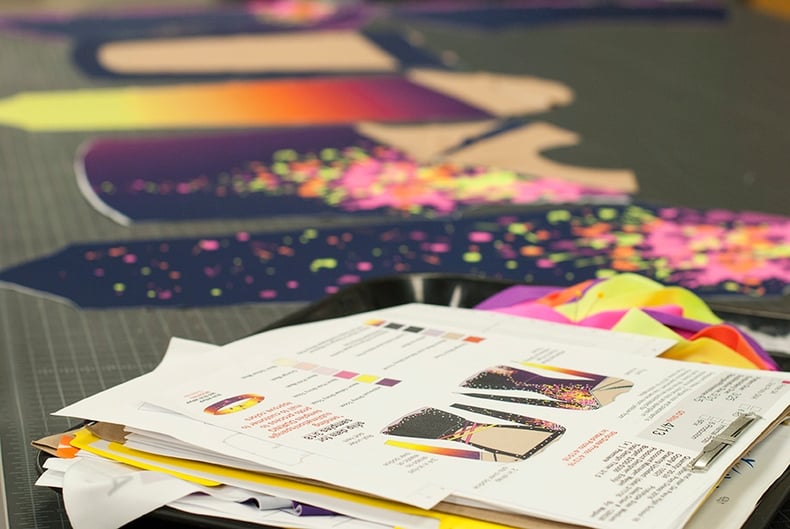 One of the most common questions we hear is this: how long does it take to get a custom dance costume?! There are a lot of different factors that can contribute to lead times for dance costumes, but generally speaking a design-from-scratch custom dance costume will take 12-18 weeks from gathering inspiration, to production, and to performance.
A design-from-scratch custom costume is a great option for teams that want a truly one-of-a-kind look, and have greater flexibility with budget ($250+) and time frame (12-18 weeks). Instead of choosing between pre-stocked and catalog styles, this is your chance to become the designer yourself!
There are other custom options that can save you time, like customizing fabrics on a pre-designed style. For more resources on costumes with quicker turn around times, check out the related post The Best Costume Options For Your Time Frame.
If you decide a custom costume is right for you, we've broken down each step with time frames below, along with a few tips for saving time!
How to Design a Custom Costume: Process & Time Frames Explained
Finding Inspiration: Weeks 1-2
The first step is for you to gather your inspiration. Providing your designers with the most information up front ensures they can fully bring your vision to life! Send your theme, music, design inspiration, colors, and fabric preferences. Inspiration photos are key to helping your designers establish a clear vision.
What you need to do: Solidify your performance concept, inspiration, budget, and time frame before your design consultation. Narrow your inspiration sources to 3-5 so your designers aren't overwhelmed. And of course, start early, at least 18 weeks before the date!
Looking for costume inspiration resources? Check out this related post! >>>
Design Consultation & Illustration: Week 3-5
It's time to collaborate with your designers on your costume design! In this step, you'll have a call or meeting to talk through your vision with your costume company before they get started on design illustrations. This helps make sure everyone is on the same page and the design process runs smoothly!
Generally, you will get your design illustration within 1-2 weeks of the first design meeting, and you'll have a few options to chose from based upon the ideas you outlined. Your designers may send fabric swatches and colors for your consideration at this time, too.
What you need to do: Get ready for your design consultation with this helpful post: How to Prepare for a Dance Costume Design Consultation. Collaborate with your team, and be specific about what you are looking for ahead of time to avoid redesigns, which can be both timely and costly.
Price, Order, and Pay: Week 6
This step is all about confirming your order and the price of your garment. Since your design is custom to you, it will require custom pricing. A good designer will design within your budget and pre-price your costume during the design illustration phase, but your price will get solidified after your approve your design illustration. Many costume companies also require a 50% deposit once you approve the pricing.
What you need to do: Be sure to get your decision makers lined up ahead of time! You'll want to get the design approved and your financials in order as soon as possible, so you can pay your deposit on time and get your sample garment.
Learn more about how much a Custom Dance Costume Costs here>>>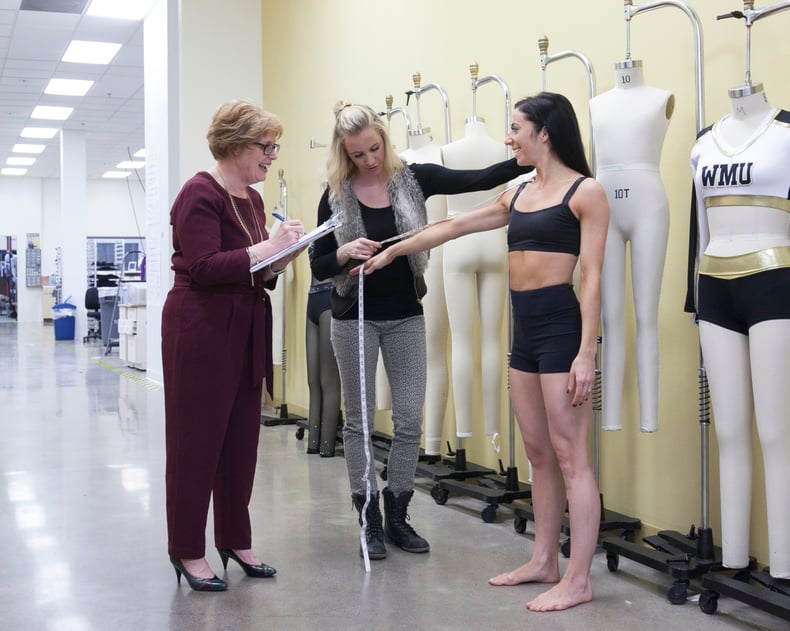 Prototype Creation: Week 7-10
Once the design is confirmed by you, a sample garment (prototype) is created to ensure you love everything about your new look! This generally takes 2-4 weeks depending on complexity of the design, and how busy your costume company is (they book up fast in the fall when everyone is ordering!).
What you need to do: Before moving to the prototype phase, have your concept finalized so that there are no major changes after the prototype is created. Adding a little length to a skirt is an easy fix - but raising a waist or adding a sleeve will take more time, pushing your final in-hand date back.
Learn everything there is to know about Prototypes on our blog here >>>
---
---
Sizing, Measuring, and Prototype Approval: Week 11-12
Once you get your prototype, you'll want to check to make sure it meets your vision. Use your sample garment to check the fit and design, and use it as a sizing guide for your team. Now is the time to provide feedback to your design team on any changes. Some changes might require a second prototype, so make sure this works with your time frame!
What you need to do: For fit: schedule a time or day to meet with your team ASAP so that you can get sizing done. Have as many people wear the proto as possible, and be sure to move in it and perform your choreography! For design approval: make sure all of your decision makers are available at this time: the athletic director, marketing department, choreographer, or coaches. This will ensure you can coordinate sending your feedback and prototype back in time to begin production.
Fit is Fashion! Learn about how to size and measure your team here >>>
Production: Week 12-17
Now your costumes are ready to be made! Production begins once you have returned your prototype, given final approval on your design, and confirmed sizes. Your costume is cut, sewn, and embellished to your design specifications!
What you need to do: Time of year greatly affects production time frames. We encourage you to take advantage of early bird discounts- the sooner you confirm your order, the sooner you'll get your costumes, plus you'll save money! Check out this post for more info: The Easiest Way to Save on Your Custom Costume.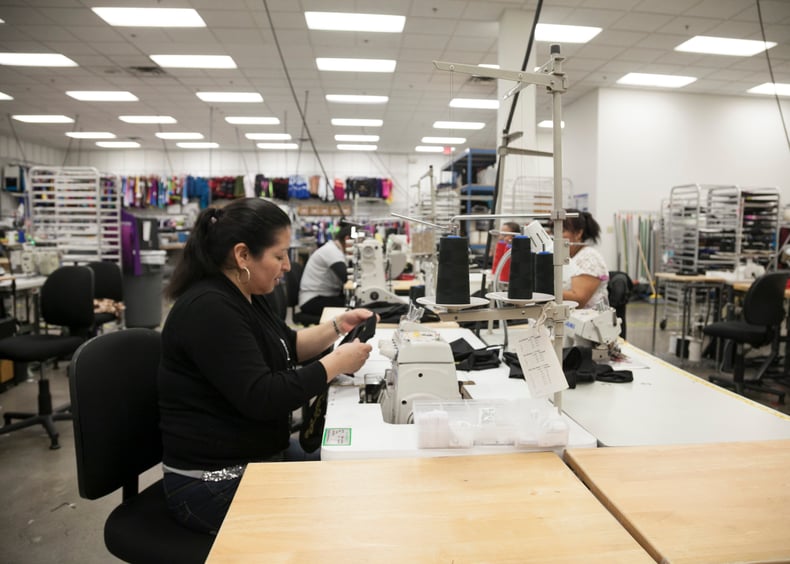 Final Payment and Order Ships: Week 18
Get excited, your order is ready to ship! Generally, this is when final payment is due, and the designers will do a final quality check on all the garments before they ship.
What you need to do: If you know you need a purchase order, plan ahead to get this all lined up in time. Get all your administrative stuff sorted out early so that you won't have to wait on your costumes!
Performance!
Your order has arrived and it's time to get ready for that much anticipated performance!
What you need to do: Be sure to get your in-hand date lined up so you receive your costumes a week or more BEFORE your performance! This will give you time to check your order, address any sizing concerns, rhinestone your costume, or account for FedEx delays due to storms. Do a dress rehearsal to make sure everyone looks their best before performance day!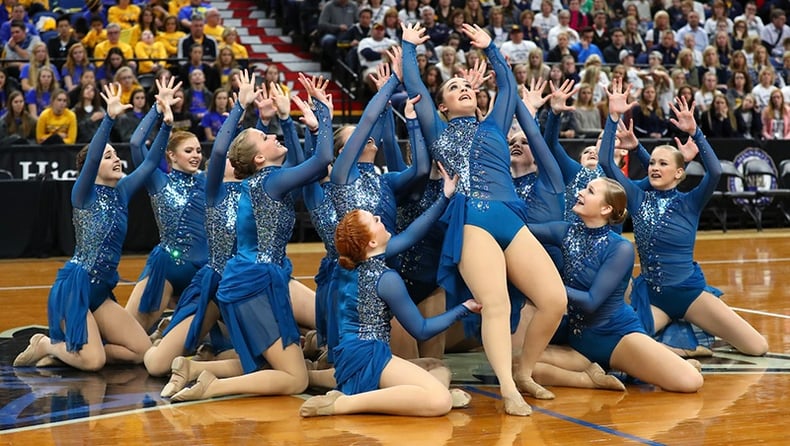 ---
These Things Will Affect Your Costume Schedule:
Even if you have all of your ducks in a row, some unexpected hiccups may occur! Here are some factors that can speed up - or slow down - your overall costume timeline.
When you order: Take advantage of early bird specials to get your costume earlier and to save money! Costume production schedules fill up fast in the fall because every team needs their costumes at the same time. Ordering ahead will secure your delivery date!
Having a clear vision:

A clear design vision from the start avoids re-designs, which add to your time frame and costs.

Some companies only allow for a certain amount of complimentary design time before they start charging you for design fees.

Your choreography highly influences the design of your costume, so solidifying that before you begin design will make the process go smoother.
The complexity of your design: A simple style that requires less patterning will get designed and created faster than a more complex or detailed style like a transition costume.
If patterning is required:

If you don't have time to design a custom costume, mix and match stock styles to create a unique look without starting a design from scratch.
Fabrics: Keep in mind that choosing from stock fabrics can save you time. Special order custom fabrics require additional time to order, ship, and receive.
Embellishments:

Rhinestones, appliques, logos and lettering, or special order notions like trims will add time to the production process. You can save time by rhinestoning your costumes yourself, but be sure to set aside a special time to do that with your team before your performance!
Keeping on Schedule: Staying ahead of your design schedule will save everyone time! Submit your sizing and send your prototype back before the due date, so that your costume company can begin production on time, or even better, ahead of schedule!
Your Team Schedule: Coordinate your costume schedule with your team schedule so that you can ensure you get the right approvals at the right times - from design approvals, to sizing, to purchase orders. There's nothing worse than not being able to move forward with your design because you don't have a team meeting scheduled!
---