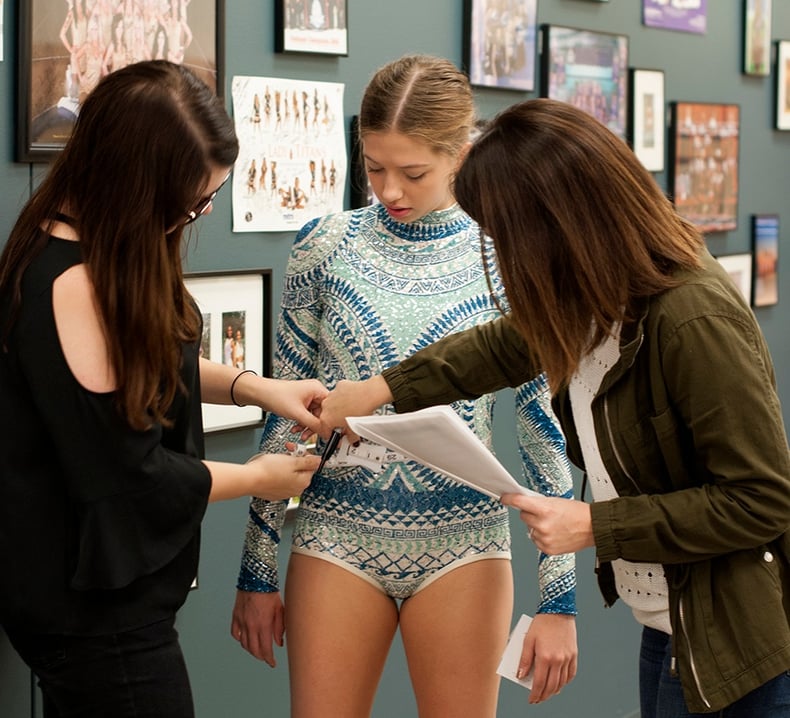 In our recent How to Design a Custom Dance Costume series, we've been covering all the steps to ordering a custom costume.
Once your design and prototype is confirmed, it's time to get started making your group order! The next step is sizing and measuring your team before your custom costume goes off to production.
Fit is fashion! Even with the most beautifully designed costume, if your outfit doesn't fit properly, the focus will be on your flaws and not your skills. Here a few tips to ensure your dancers are fitted correctly:
5 Tips for Measuring Your Dance Team
Be consistent.

Measurements must be accurate to determine the proper size, so you'll want to use one person to measure the entire team to be consistent.


Measure over a form-fitting garment, such as a leotard or biketard. This will ensure that your measurements are the most accurate!


Pull tape measure so that it's comfortably snug. Make sure not to pull too tightly or too loosely, subtracting or adding inches to your measurements.
Check the size chart before ordering. F

ollow the

measurement chart

provided by your costume manufacturer to determine the right size.

You might find your size varies from one company's website to another!
If you are between sizes, go up a size!

A garment that is too large can easily be taken in. A garment that is too small is hard to let out. Dance costumes are meant to be form fitting, but not too tight!
Check out the video below for more on How to Size and Measure your team!
How to Size & Measure Your Dance Team
Video Transcript:
Proper fit is just as important as your design selection. We believe fit is fashion! For your team to look great, taking proper measurements is the first step necessary to select a properly fitting size.
Before you begin, make sure you do the following:
Select one person to take all the measurements for the team. To save time, have them pair up with someone to record details and take notes.


The person taking measurements needs to be trained properly. It is essential they watch this video.


Use a long tape measure. 72" is recommended.


Your performer must wear tight fitting clothing, such as a leotard, bra top and tight bottom, or unitard.


Download a copy of our chart for recording measurements. This can be found here.


When you measure, make sure the tape measure is comfortably snug around the body.
Now you're ready to get started measuring your team!
Step 1: Torso Girth

Start at the shoulder, take the tape measure around the body, through the legs, to the end of the tape measure at the same shoulder.
Step 2: Bust

Measure around the body at the widest part of the bust line.
Step 3: Waist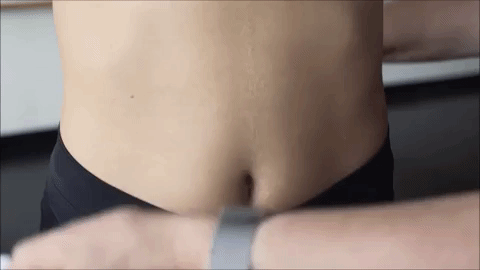 Place the tape measure around th esmallest part of the waist, at the natural waistline. This is often found above the belly button.
Step 4: Hips

Have your performer stand feet together, looking forward. Measure around the widest part of the hips.
Step 5: Inseam

Have the performer stand with his or her feet four inches apart, looking forward. Measure from the crotch to the floor, in bare feet.
Special Measurements
If you have special sizing needs, you may need to take additional measurements. Including sleeve and skirt length. Talk with one of our client service members to determine if your costume or performers require these measurements.
Sleeve:

Measure from the center of the back to the wrist.
Skirt:

Measure from the natural waist to the knee, along the side of the body.
Determining Your Costume Sizes:
To determine the best size, compare your performers' measurements to your costume company's measurement chart. If your performer is between sizes, or has a long torso, select one size up. And never be afraid to call your Account Manager for assistance!
Tips for Determining Sizes:
When your measurements are between sizes, size up! It's easier to take a garment in than to let a garment out.

If you are ordering a full body garment, such as a leotard or biketard, base your sizing on your Torso measurement.

If you are ordering a top and bottom, base your sizing on your Bust measurement for the top and Waist and Hip measurements for the bottom.

Dance apparel is meant to be more form-fitting and hug the body. If your size is different than your streewear size - that's ok! Oftentimes dance apparel sizes run smaller. Always check with your costume company's sizing chart!
Once your measurements and sizes are recorded and sent to your costume company, your part is done! Sit back, relax and wait for your gorgeous custom dance costumes to arrive.
---
Recommended Blogs:
---