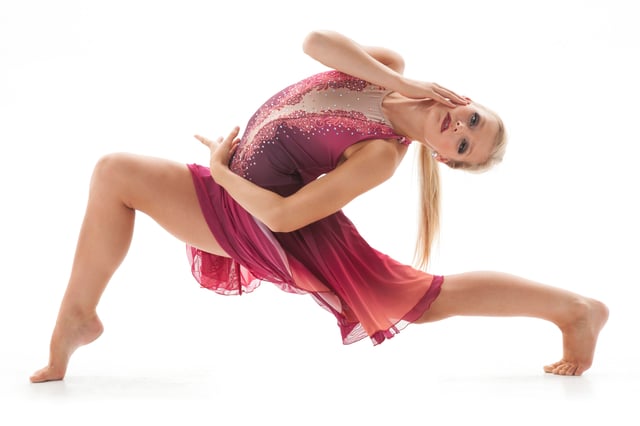 Last week we took a look at the top dance costume trends for Jazz, and this week we'll continue the list with Lyrical and Contemporary! Here are the design trends we predict will be shaping dance team performances for the 2017 season!
1. The Romantic Look
If there is a go-to look everyone can't get enough of, it's the Romantic look. These pieces have a feminine quality, with plenty of lace fabrics, scallop edges, sheer flowing layers, and sequin and rhinestone appliques. Soft and jewel tones like dusty rose, burgundy, navy, and orchid purple rule this style!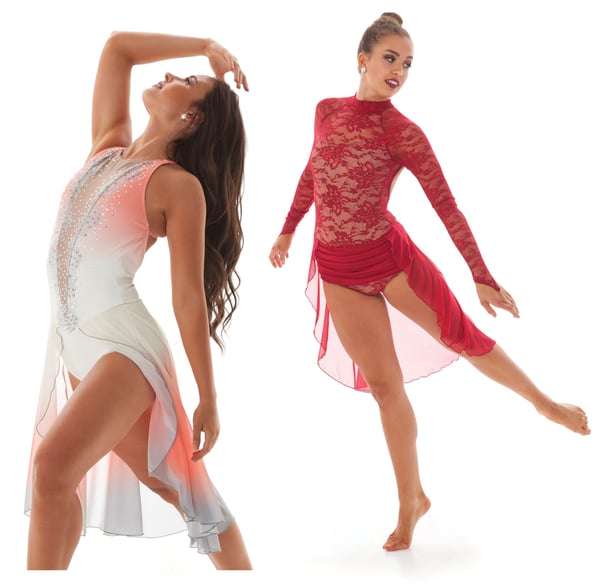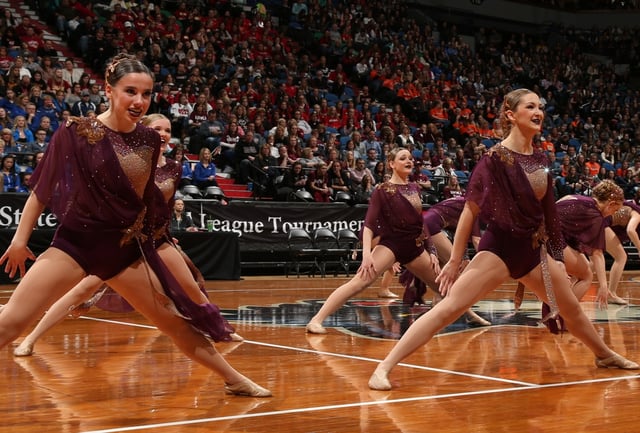 ---
2. Open Front Skirts
If the romantic, open front skirts above aren't enough to temp you, check out the versions below! These skirts are at their best in mesh - an optimal fabric for creating a trail of elegance as the skirt flows with your every movement. We love the idea of pairing a half skirt with a simple leotard!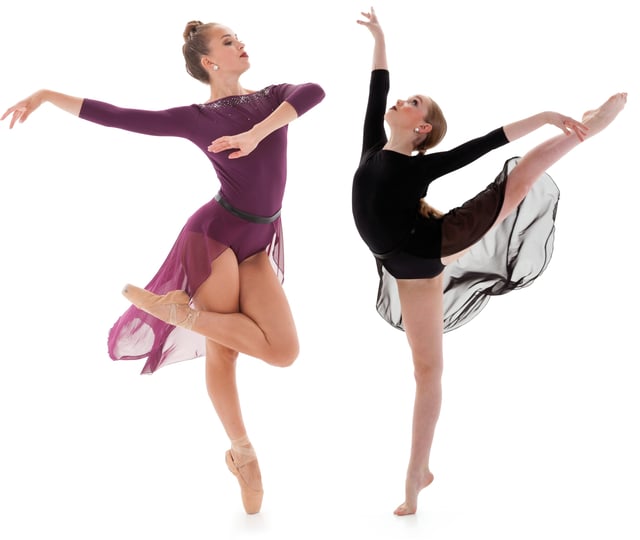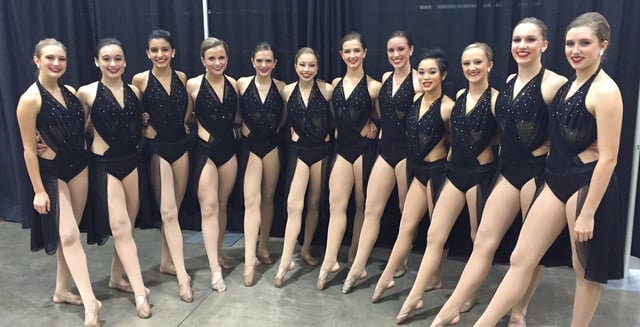 Brookfield Academy Dance in a custom dance costume with their namesake skirt
---
3. Modern & Minimal
The clean, simple, minimalist aesthetic is gaining popularity over the former trend of heavily rhinestoned and appliqued costumes. This looks can go two very different ways: modern and loose like the ivory and charcoal looks below, or streamlined and fitted like the black Dance Arts Centre leotard, below. Simple fabrics are essential to pulling off this trend!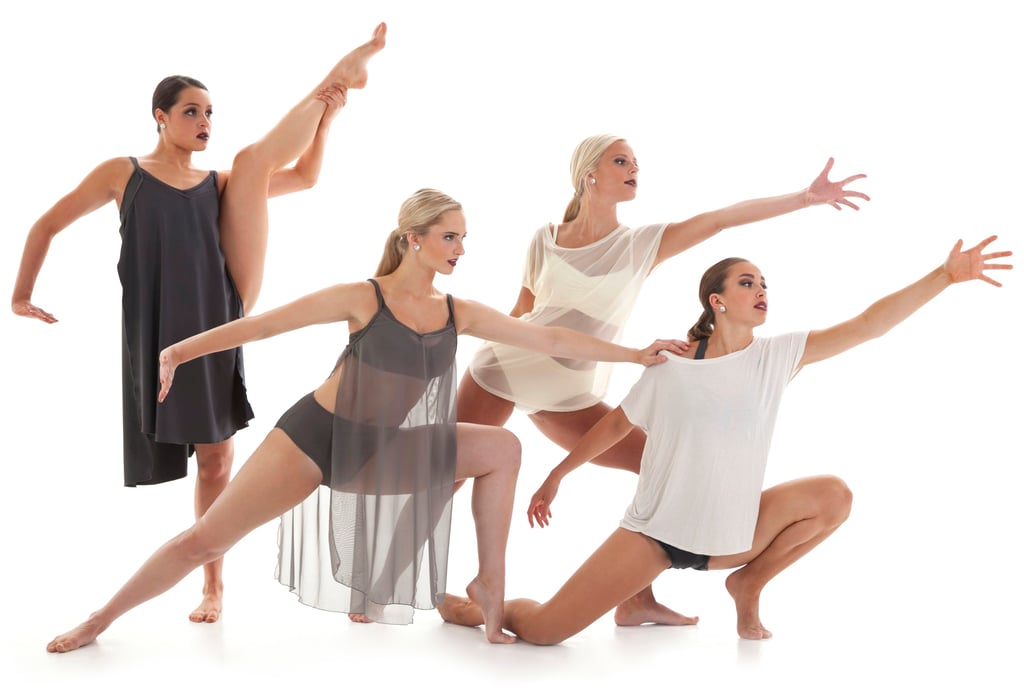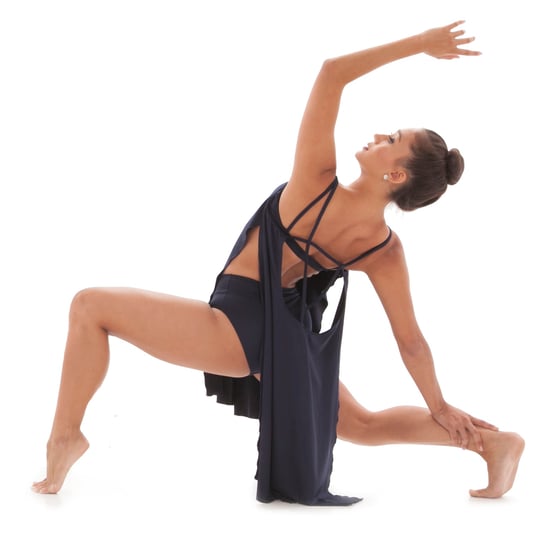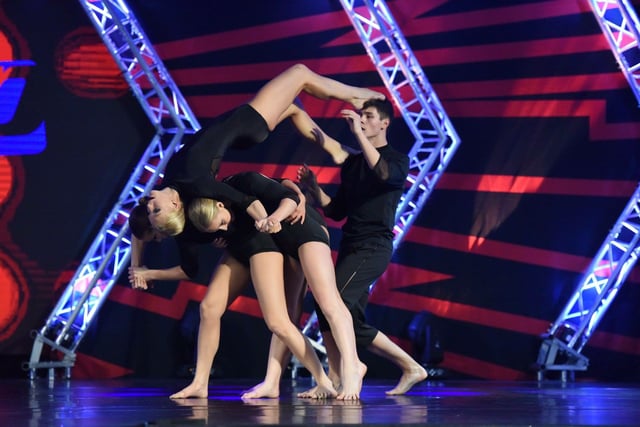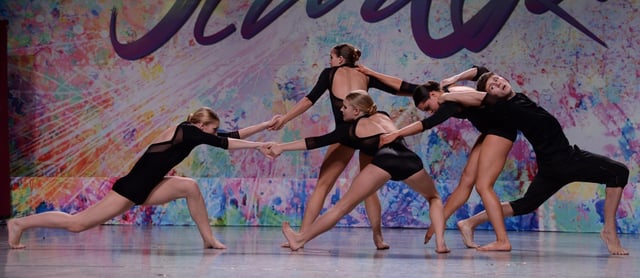 ---
4. Leotards
In the studio world, simple yet sophisticated leotards seems to rule the stage! An extension of the Modern and Minimal trend, these styles soar with the use of strong style lines and mesh insets to add interest.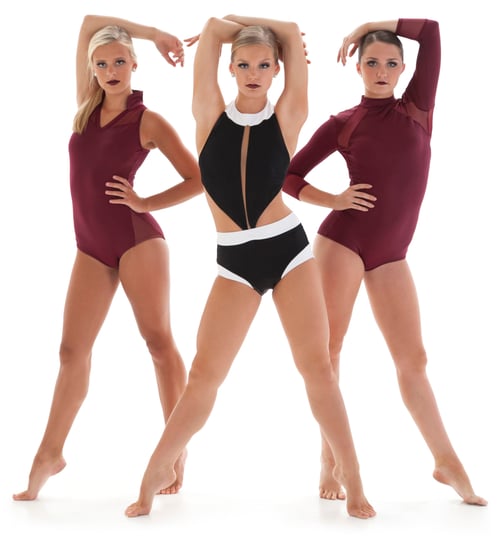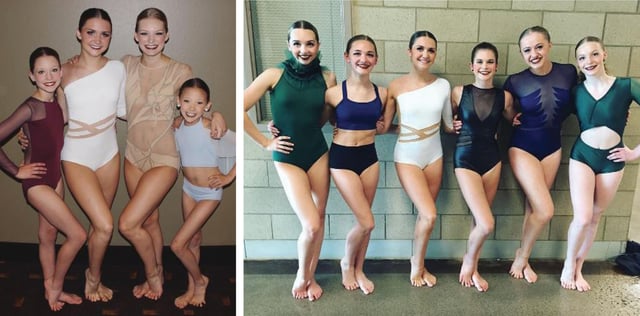 Soloists at Dance Arts Centre in stunning leos, many of which are LVR Designs! Photo credit: Dance Arts Centre
---
5. Modest Briefs
And continuing with the minimal trend are briefs with cropped tops. Always a modest cut on the leg for maximum comfort and stay-in-place style while dancing!


---
6. Mesh Insets
For a monochromatic look that isn't lacking in interest, try mesh insets. The subtle contrasts in fabric texture create a sophisticated and modern look, especially when used in combination with the leotard and brief minimal trends, above!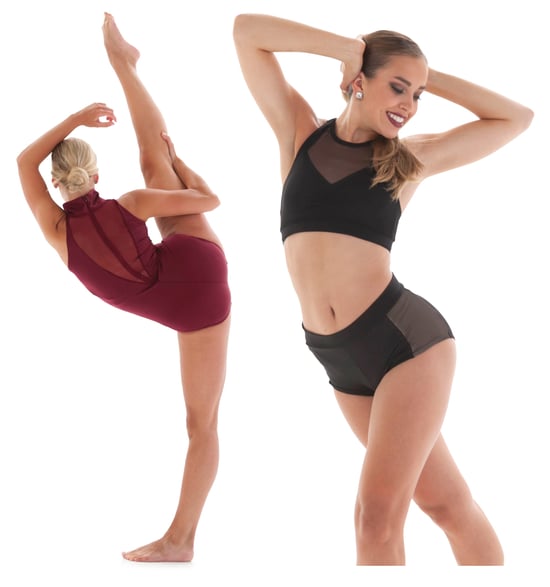 ---
7. Sheer Maxi Skirts
When grace is an essential element in Lyrical dance, long & full skirts are the perfect accessory! Sheer layers add an irresistible drama, and emphasize a seamless flow from one movement to another. Mesh is the perfect material to reveal your lines while maintaining a light & airy feel!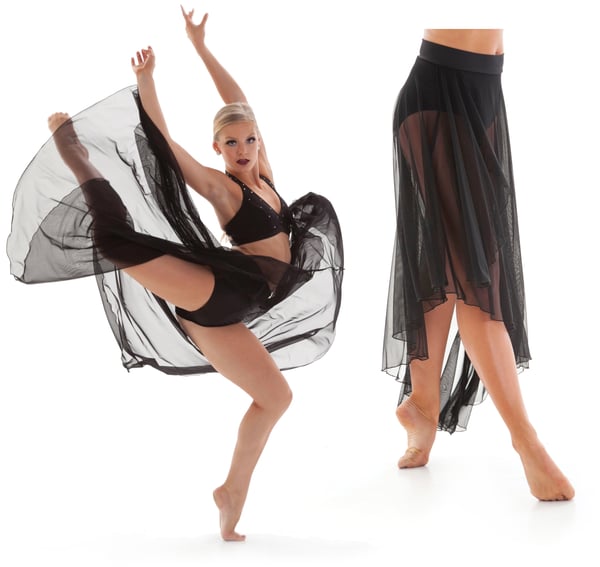 ---
8. Neutrals & Blush Pink
Natural and flesh tones have been trending for a while now, but the new favorite neutral? Blush Pink! This soft color combines subtle beige with pale pink. It's the perfect neutral with just a hint of color!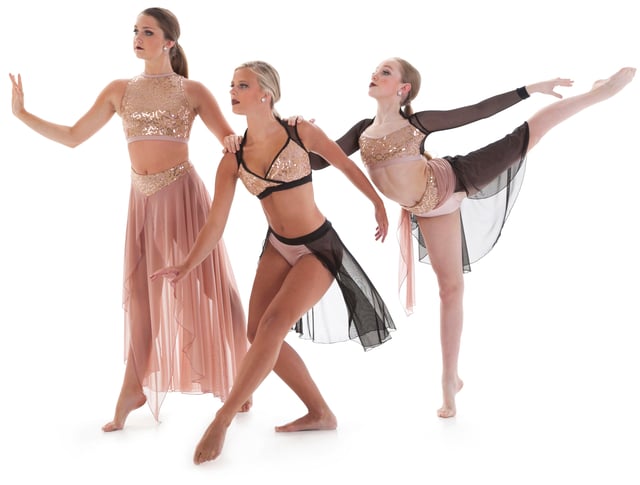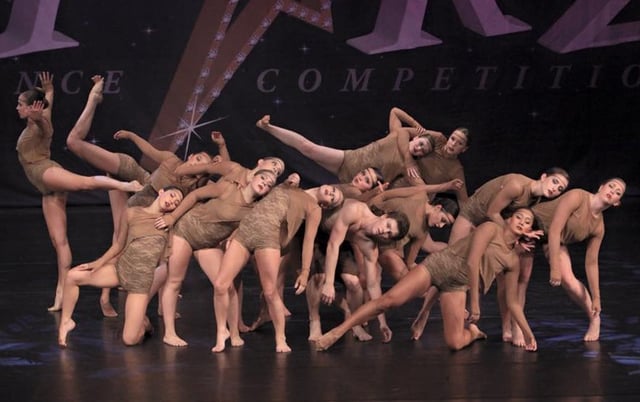 ---
9 . Ombre
From hair to fashion, we know you've seen this look before. But we aren't quite done with it just yet! Give it a fresh twist with a subtle color gradation at the skirt hem - perfect for a soft lyrical look!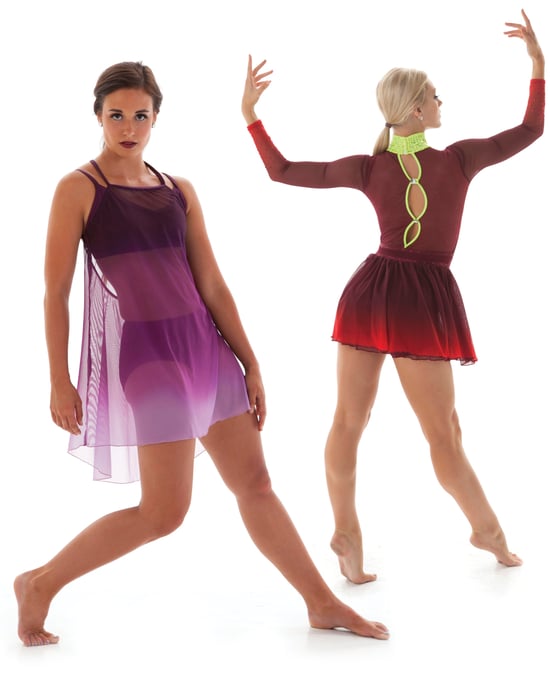 Style Athena and custom jazz costume for Waupaca Jazz
---
10. Low, Open Backs
An spin off of the strappy backs costume trend from Jazz, a completely bare and open back is another trend we've seen infiltrating all styles of dance. Simple and stunning, this is a statement choice not for the faint of heart!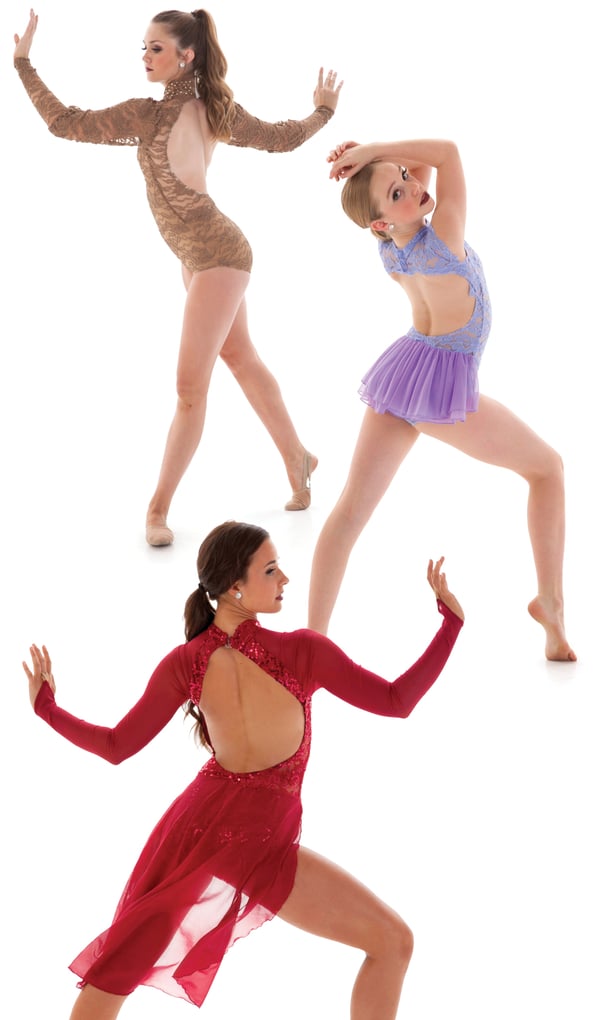 Styles top to bottom: Custom nude and lilac lace leotards for Dance Arts Centre, and style Jubilee
So, what's your favorite trend for lyrical and contemporary dance costumes? Let us know!