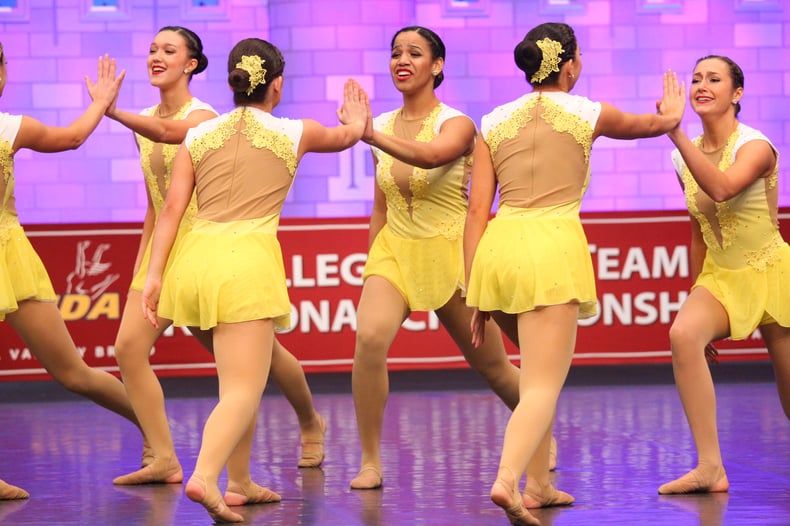 Team: The College of New Jersey Dance Team
Director/Head Coach: Jennifer Whitford
Location: Ewing Township, NJ
Style: Collegiate Dance Team
The College of New Jersey Dance Team's Semi-Custom Jazz Costumes!
The College of New Jersey (TCNJ) Dance Team stunned on the floor at UDA College Nationals this year, where they made it to finals in both their categories: placing 6th in Pom and 8th in Jazz! We asked Jennifer about the inspiration behind their jazz routine this year:
"We knew we wanted to do a piece that was uplifting and carried a positive message, and when we found the song 'Daughter' by Sleeping At Last, we knew this was going to be our song. When I listened to the song, I just saw yellow, and since our school colors are navy and gold the choice of yellow was a no-brainer!

The first line of the song says, '...the sunshine shines a little brighter…' and it's just such a happy and motivational song. "
The bold yellow color choice for their costumes was the perfect pick for an uplifting song referencing sunshine! While initially conceptualizing their look, Jennifer knew she didn't want the costume to be solid yellow, so she began looking into an ombre effect. The team found online style Cora, and customized the colors to fit their vision. "The Cora had the simplistic lines that we were looking for with the ombre effect," Jennifer said.
TCNJ Dance Team added another layer of depth to their semi-custom dance costume by applying their own DIY appliques in lieu of the printed lace pattern found on the original Cora online style. This easy switch gave the dress an even more personalized look, and DIYing the appliques also helped save on costs!
For their choreography, the team worked with April Hamner, who "did an amazing job of incorporating moments within the routine that allowed for true personal interaction between the dancers," said Jennifer. "This allowed their performance to be "honest" and true every time they performed it."
The final result was an uplifting and hopeful theme that came through in all aspects of their routine: song, color, costume, and choreography! Check out a clip of their performance plus more Q & A with Coach Jennifer below!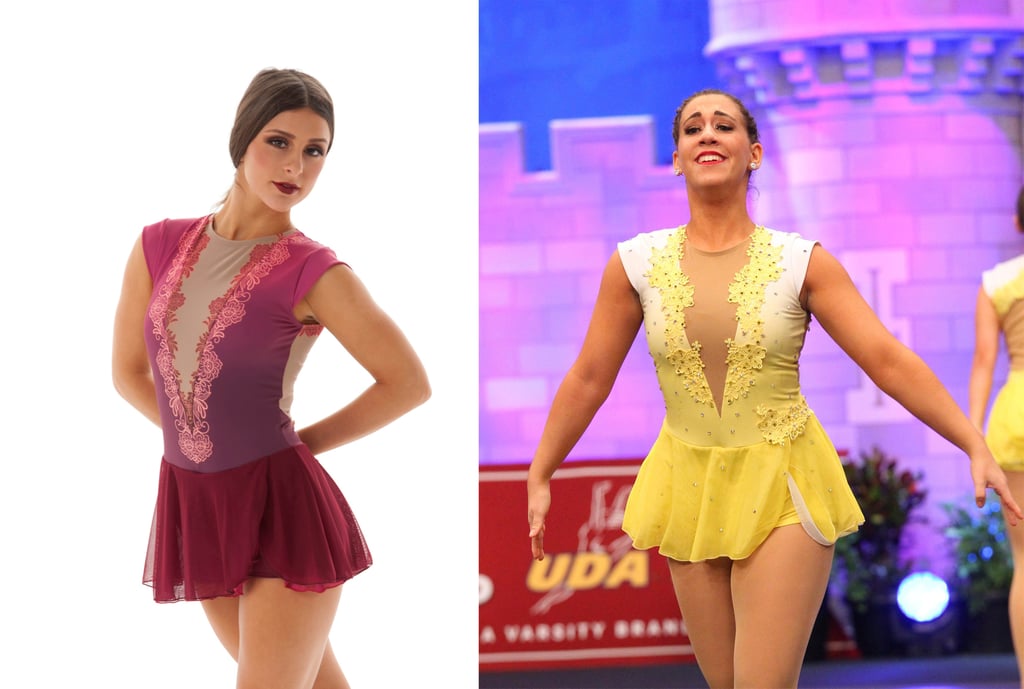 Online Style Cora (left) and TCNJ Dance Team's Final Look (right)
"I had never used The Line Up before, but I've always loved their costumes. I was worried initially about cost, but you guys made the entire process of creating a semi-custom costume so simple. The colors were perfect, and we were able to embellish them ourselves to help conserve our budget. "- Coach Jennifer Whitford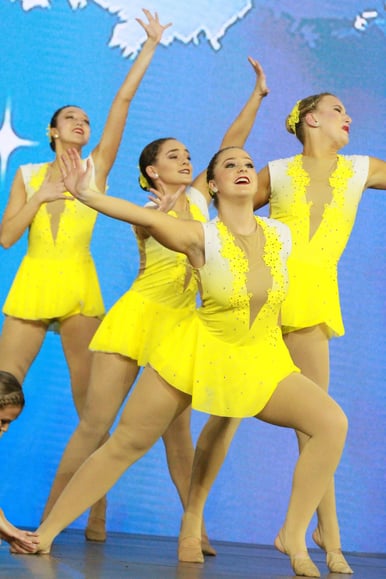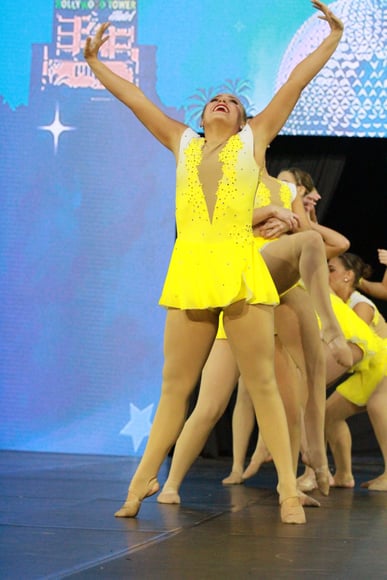 What is your team's competition music?
Music was "Daughter" by Sleeping At Last. The first line of the song says, "...the sunshine shines a little brighter…" and it's just such a happy and motivational song.
What makes your team/group unique?
Friendship is the root of the relationship between all dancers on this team. They are truly friends both in and out of practice, and they each put TEAM first without having to ask for it. They also have the highest team GPA (3.68) among all club sports at TCNJ.
What is your favorite fan memory, or what are you most excited for this season?
Our favorite memory was watching jazz finals after we finished our performance. There was so much love for each other that was shared on the floor, and we felt like we told our story the way we wanted to with our performance.
What was your team's biggest challenge/opportunity this season?
We were blessed with the opportunity to perform at several on- and off-campus events throughout the year. These events helped us bond even more as a team as well as increased our visibility throughout the TCNJ and Ewing community.
---