Team: Gotham City Synchro
Coach: Melanie Greene
Creative Director: Helen Weselcouch
Location: Long Island City, NY
Style: Synchronized Skating
Gotham City Synchro Adult and Masters Synchronized Skating Teams
Representing as New York City's largest adult skating team, Gotham City Synchro has been creating a challenging yet inclusive team environment since 2006. With every year that passes, they strive to build on the year before. "We are hungry to learn and improve and have fun while doing it. This season is going to be the best yet!" said Helen Weselcouch, the team's creative director.
This past season, the group designed two unique looks for each of their skating teams, both inspired by pop music icons.
The Masters team created an edgy look for their David Bowie medley, with a bun mohawk to top it all off! The design began with the very feminine Floral Mesh Dress as a starting point and transformed into a glam rock "little black dress" by changing the fabrics to black. We loved how the pop of blue in their underskirt matches the blue in their make-up and hair!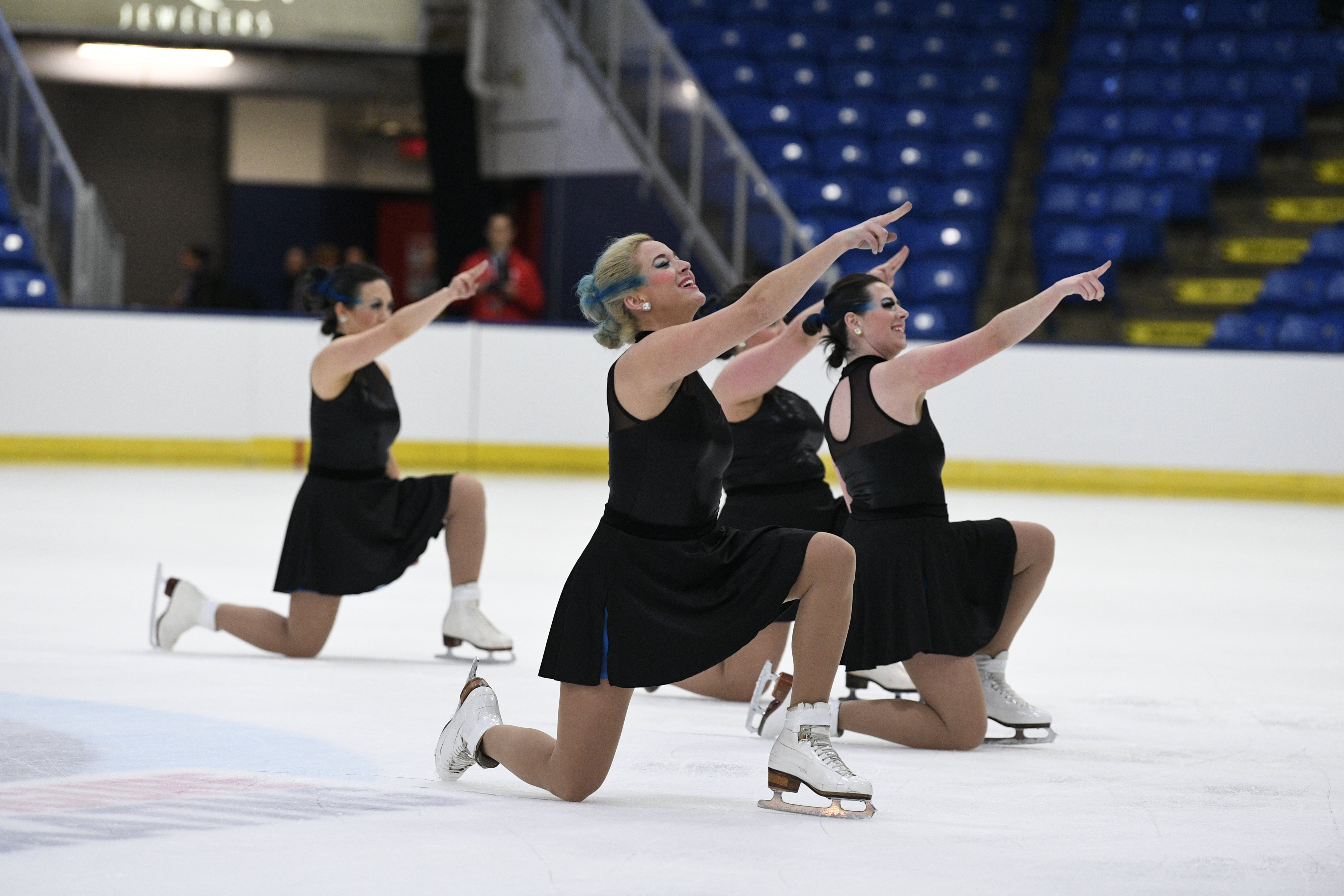 Gotham City Synchro Masters Team


The Adult team skated to Lady Gaga's AY-O, and went with a "disco country chic" look with glittery golds and fringe. To get started with the custom skating dress design, Helen began by sketching out her ideas and gathering inspiration pictures.
"I love how they design their own mood boards with inspiration photos & colors/fabrics for each group," said Product Designer Michelle. "It helps to really make their vision clear & my job easier!" said Michelle.
"We look forward to working with Gotham City Synchro every year because they bring a lot of enthusiasm and creativity to their concept," said Customer Service Manager Katie. "It's so fun to see that imagination and energy translate to their performance on the ice."
Check out more of the Gotham City Synchro Adult and Masters teams from the 2018-2019 season below!


Mood Board and Inspiration images or Gotham City Synchro's Adult Team Skate Dress


Gotham City Synchro Adult Team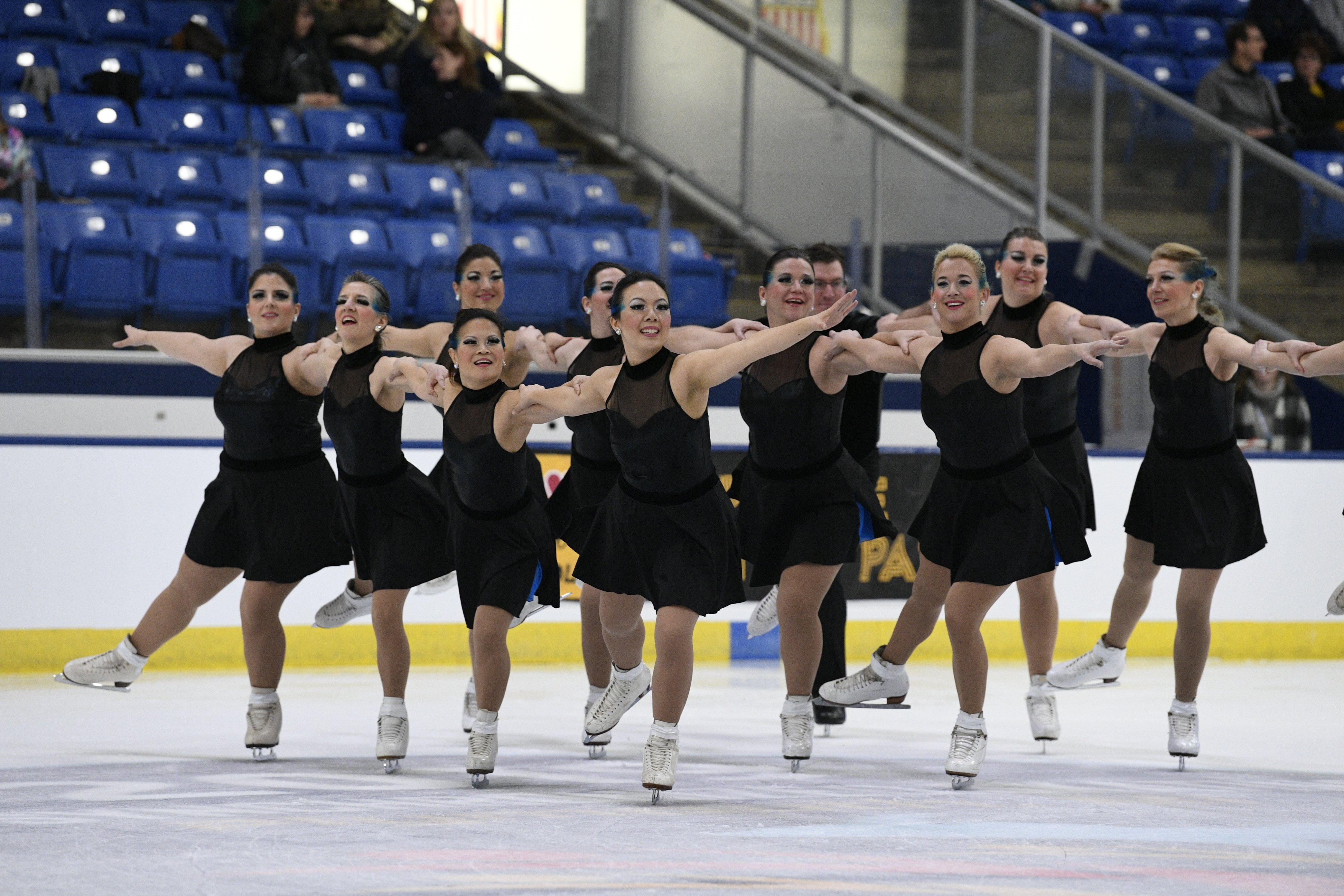 Gotham City Synchro Masters Team
Q&A With
Helen Weselcouch, Gotham City Synchro's Creative Director
What makes your team unique?
We are the largest adult skating team in New York City and work hard to make Gotham City Synchro (GCS) a challenging and inclusive environment for everyone whether they're a beginner or a former member of team USA.
What does teamwork mean to your team? How do you rally your team?
Teamwork is about having patience and support for every skater. With such a wide range of skill sets, choreographing a challenging program for every skater can be difficult. We all work together to show grace and patience if someone needs help and that makes celebrating victories (big and small) so much sweeter. Go Gotham!


What was your inspiration/concept and how was it incorporated into your costume, choreography and music?
Adult skated to Lady Gaga's A-YO and went for disco country chic. The dresses were absolutely perfect! Masters skated to a David Bowie Medley and went for a more subtle look to offset their bun mohawks. The dresses were so flattering and sophisticated.


What are you most excited for this upcoming season?
Every season we build on the season before. We are hungry to learn and improve and have fun while doing it. This season is going to be the best yet!


What was your team's biggest challenge/opportunity this season?
This past season our founder, program director, and head coach left to focus on her family. While devastated, we really worked as a team to install a new leader. The process brought us together as a team and gave us the opportunity to refresh our goals and mission. The future is bright for GCS!
---