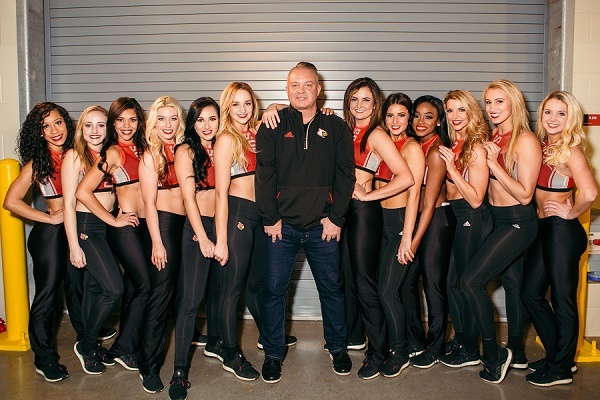 The Louisville Ladybirds' Dance Costumes, as Seen on Lifetime's "So Sharp"
Have you been as obsessed with watching Lifetime's "So Sharp" as we have at The Line Up? It's not every day one of our clients stars in a Lifetime reality show, and the excitement is contagious! Every week we've been streaming the show in the conference room over lunch to see the stunning routines, the teamwork, the drama, and of course, whatever Coach Todd Sharp will say next!
Our account manager, Lindsey Stone, has been working with Todd and the Louisville Ladybirds Dance Team for over 5 years now, and we've loved helping outfit the 14 time National Title winners with a variety of pieces - branded apparel for gameday as well as custom costumes for NDA Nationals!
Here's a peek inside the team's wardrobe and the inspiration behind some of the Louisville Ladybirds' dance costumes below!
Gameday: 202-7 Mesh Crop Top
We LOVE this sporty mesh crop top! Even more, we love the sublimated mesh crop top trend! Mesh keeps the gameday look fresh, and sublimation allows for a lot of flexibility with customizing team colors and logos.
The Ladybirds actually ordered this top TWICE, but customized it to create two very different looks. One version is in red with a bold "CARDS" lettering across the front, and the other is in white with the Cardinal mascot logo on the front. "They have these two incredibly trendy and stylish tops, but they created entirely different looks just by changing up the colors and logo," said Lindsey.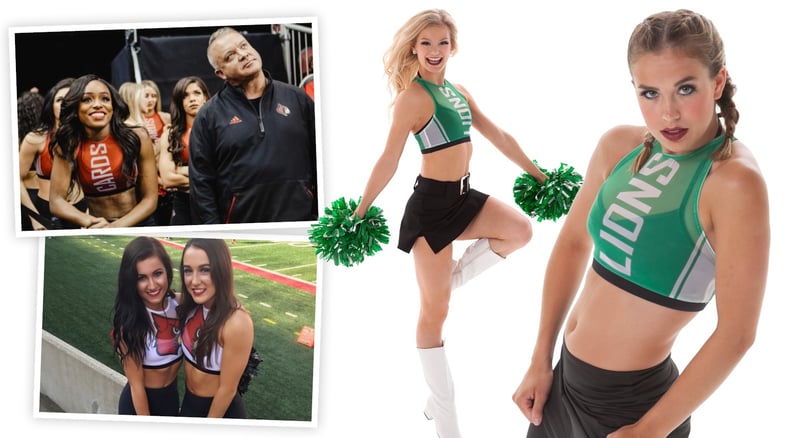 Gameday: Drive Leggings
There is just something about those mesh cut outs in leggings! We love this look- and we see it frequently on the Ladybirds, because they are SO versatile. These leggings go with everything, a hip hop or a game day look, paired with a halter or bra top- no matter what, they look amazing!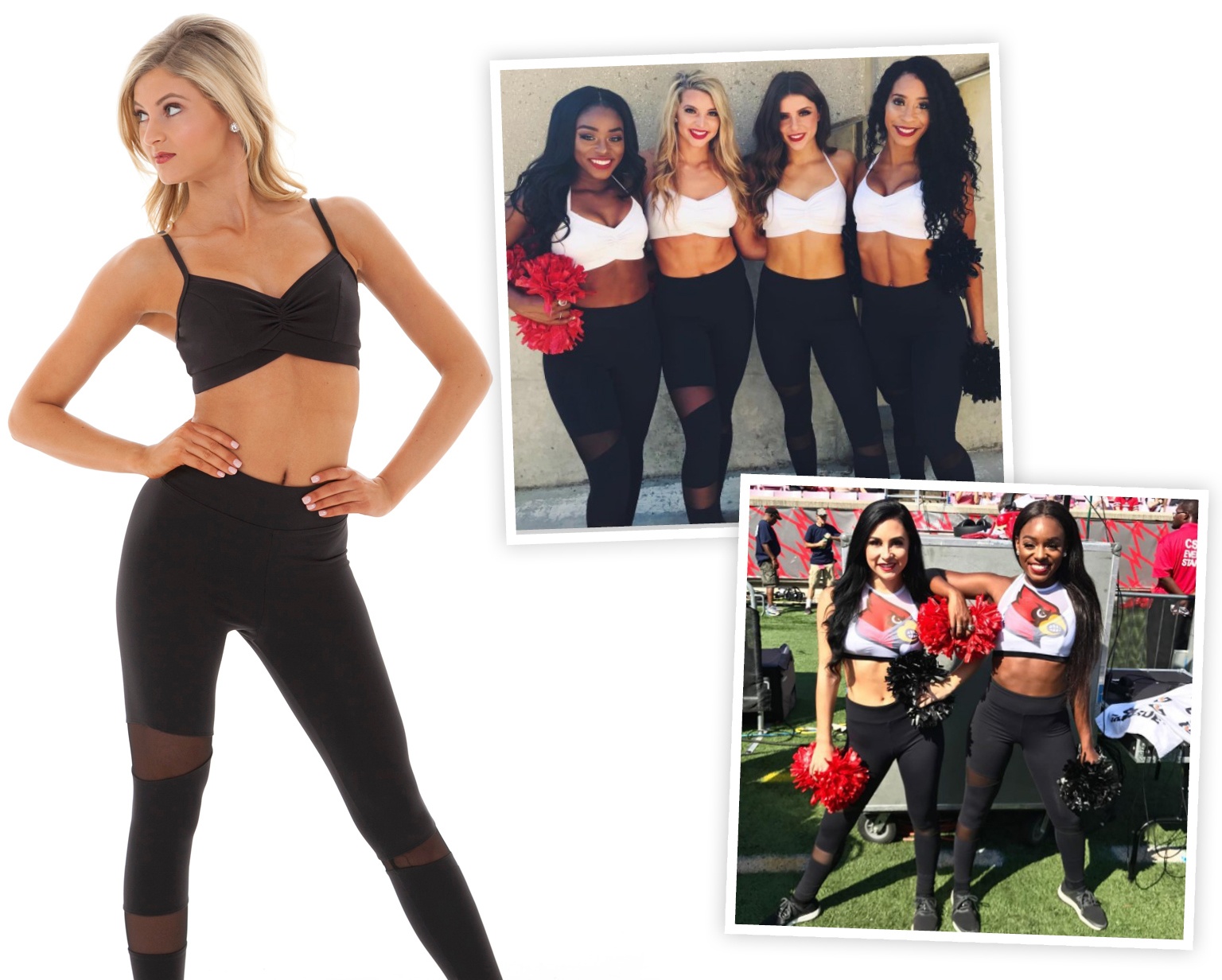 Gameday: Jackson Crop Top
This was another top that the Ladybirds pulled from our online catalog, and were able to easily customize for their team. The simple V-neck crop top is also sublimated, so it's incredibly easy to chose your own colors and switch out the lettering to match your team's brand.
We love that the team name is on the back of the top- it gives this simple dance top an interesting flair! Wear it as a warm-up, game day, or practice top - it can do it all.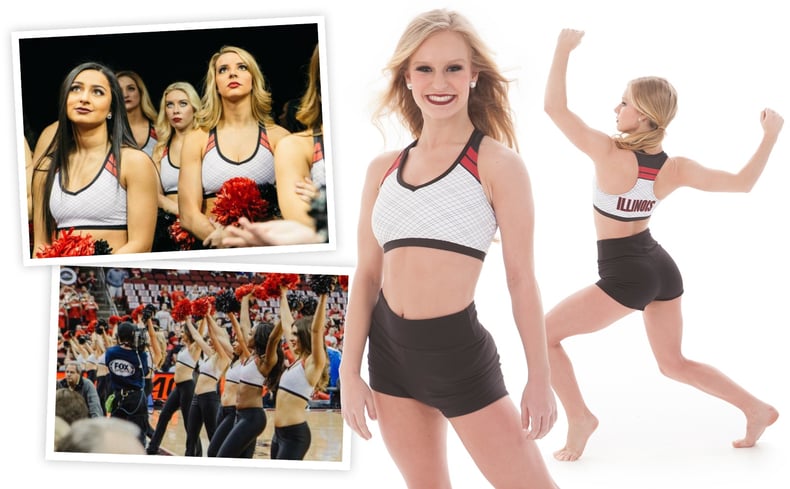 Top left and bottom photos via Lifetime. Right: Style Jackson
Gameday
: 431-22 Crop Top with Mesh Sleeves

The Ladybirds debuted this classic collegiate look with mesh sleeves at the Pro Action Dance convention this year! A sneak peek into next season, this top is fresh to their wardrobe, and hasn't been seen on the show yet. The mesh sleeves add a modern twist, and of course, we love the Zsa Zsa sequin body for extra sparkle.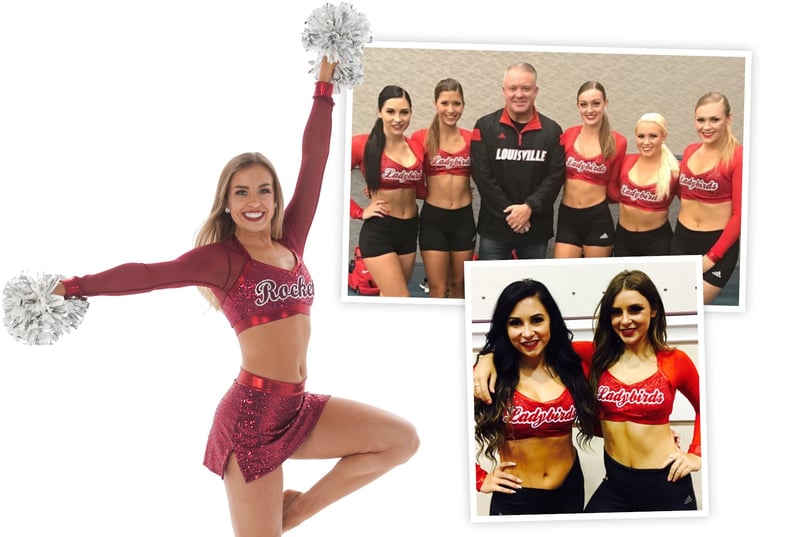 2016 & 2017 NDA Nationals: Harem Pants- a Ladybirds Hip Hop Staple!
The Ladybirds rocked an unreal hip hop routine in white harem pants at the 2017 NDA Collegiate Cheer & Dance Championship. While we can't take credit for the cute tops worn with these pants, the harem pants "have become somewhat of a Ladybird Staple, combined with their fingerless gloves," said Lindsey. They've worn the pants two years in a row, in both white and red. A classic collegiate Hip Hop look, with a small touch of Ladybird individuality when the gloves are added!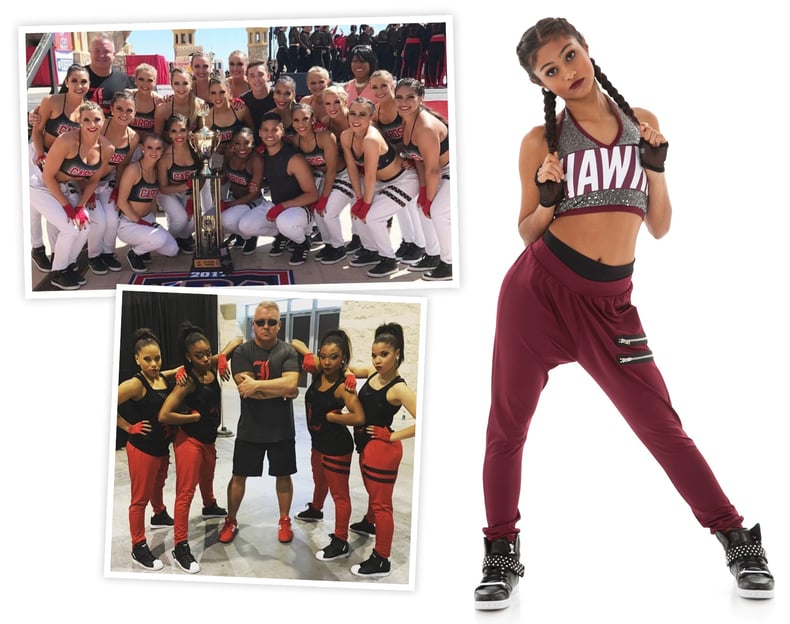 2016 NDA Nationals: The Wednesday - Red Unitard
When it comes to competition costumes, the Ladybirds like to go the custom route. "We've built a very good working relationship over the years," said Lindsey, the Ladybirds account manager. "Todd will text me a picture of some inspiration, and we will work off that to create the design and bring his vision to life."
For the team's 2016 Nationals Team Performance costume, Coach Todd Sharp said: "I just had a vision of our girls dressed in RED from head to toe." To achieve this look, the Ladybirds customized the Wednesday style by changing the color to red, and replacing the mesh legs with lace.
As shown below, our Wednesday style has been customized many ways - but the Ladybirds put their own spin on it we hadn't seen before! The costume made an appearance during the second episode of So Sharp, for a gameday halftime performance.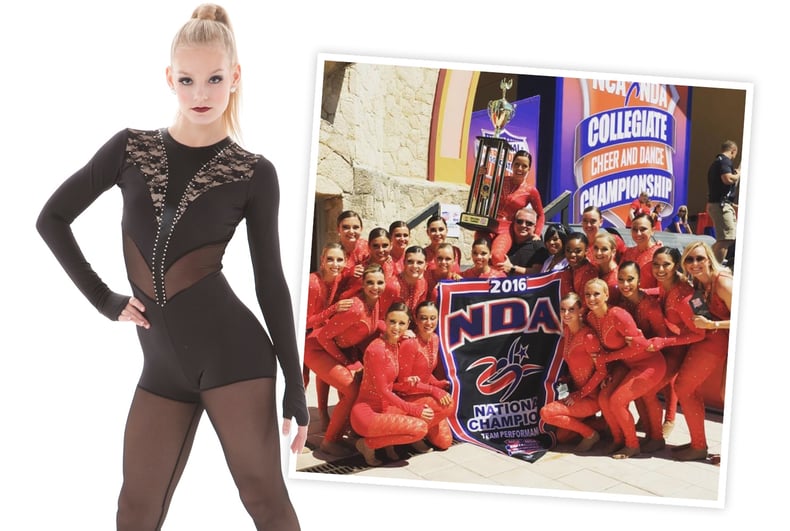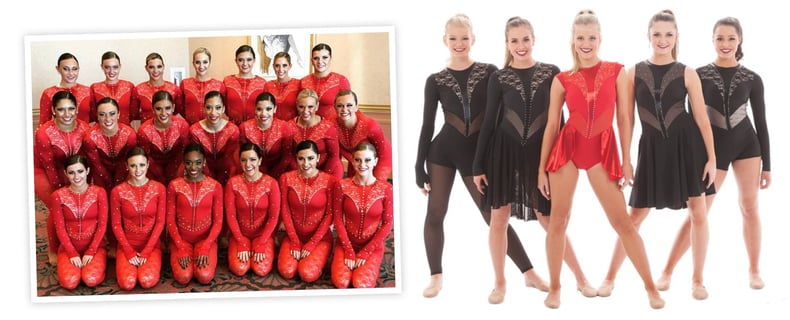 2017 NDA Nationals: Custom Black Lace Unitards
For their 2017 NDA performance earlier this year, we worked with the Ladybirds to create a custom black lace unitard. The elegant costume was inspired by a dress worn by Miss Kentucky, with a sweetheart decolletage trimmed in Ladybird Red rhinestones.
Their staple fingerless gloves from their hip hop routine and a choker added an edgier look to harden the softer lace. With a sexy low back- it's hard to deny this simple and chic costume was a showstopper! Keep an eye out for this outfit as the show works its way towards Nationals!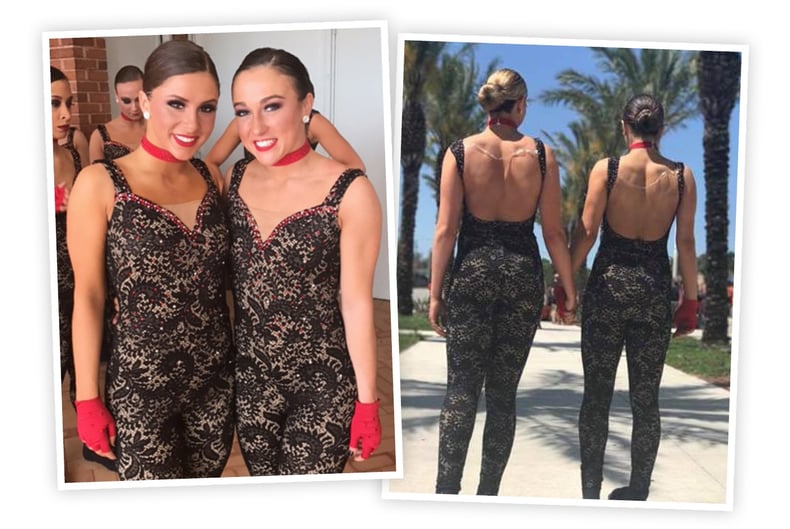 Louisville Ladybirds in their custom made black lace unitards.
---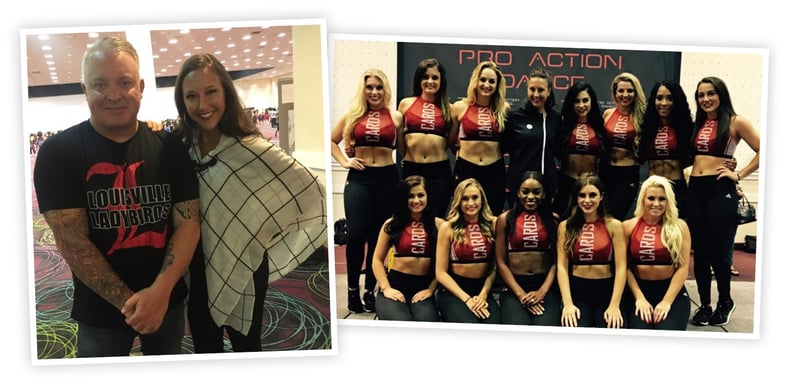 Lindsey finally got to meet Todd and some of the Ladybirds at Pro Action Dance this year. "It was so nice to finally put a face to the name! Todd and the girls are just as amazing in person as they are to work with over the phone," she said.
Congrats on the spotlight, Ladybirds, we look forward to watching the rest of this season's "So Sharp"!!
---