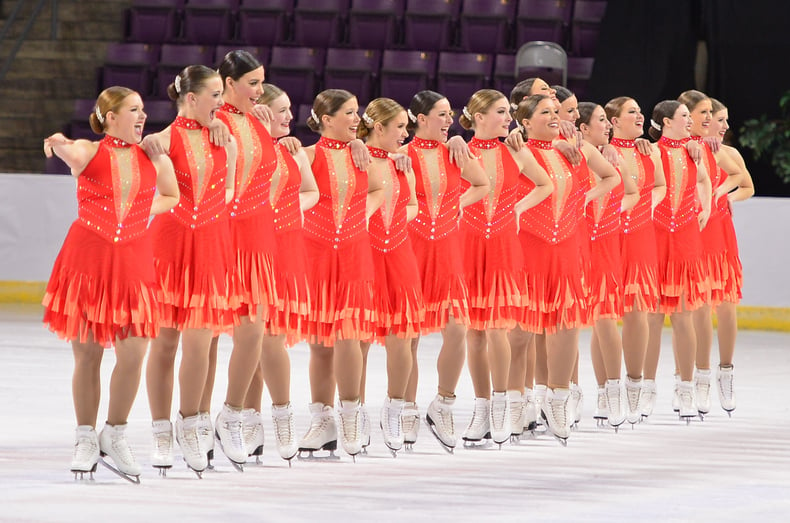 One of the most important aspects of a performance is how you feel in your dance costume. The more comfortable and confident you feel, the better you will perform! A costume that is flattering on the entire team is one way to make sure your dancers look and feel 100%, and elevate your performance. Here are some tips for designing dance costumes that will look good on the entire team!
How to Design A
Dance Costume That Looks Good on Everyone
1. Design for the entire team.
You want to design your costume to compliment everyone on the team! This will create a cohesive look, and let every dancer feel their best. Here are some things to consider when designing your dance costume:
Hips, waist, and backside

- not everyone is comfortable with midriffs showing or booty shorts, so consider how much coverage is appropriate for your dancers.
Busts

- if your team prefers to wear a bra with their costume, avoid open back costumes where bras will show.

The Scotlyn Skate Dress (left) has a lower waist, which isn't the most flattering on all body types.
The Brielle Skate Dress (right) has a more natural waistline, emphasizing the slimmest portion of the body!
2. Think about lines and body proportions.
The most flattering garments always compliment the body's natural hour glass shape. One way to do this is to emphasize the slimmest portion of the body: the natural waistline. For example: place a belt or waistband at your natural waist line (at the bottom of the rib cage), rather than around the hips.
Proportions are also important. Consider the Rule of Thirds - the golden rule of fashion! The Rule of Thirds states that it's most flattering to divide the body in thirds rather than in half. The eye naturally finds a 1/3 to 2/3 ratio more aesthetically appealing than 1/2 to 1/2. Take a look the example below!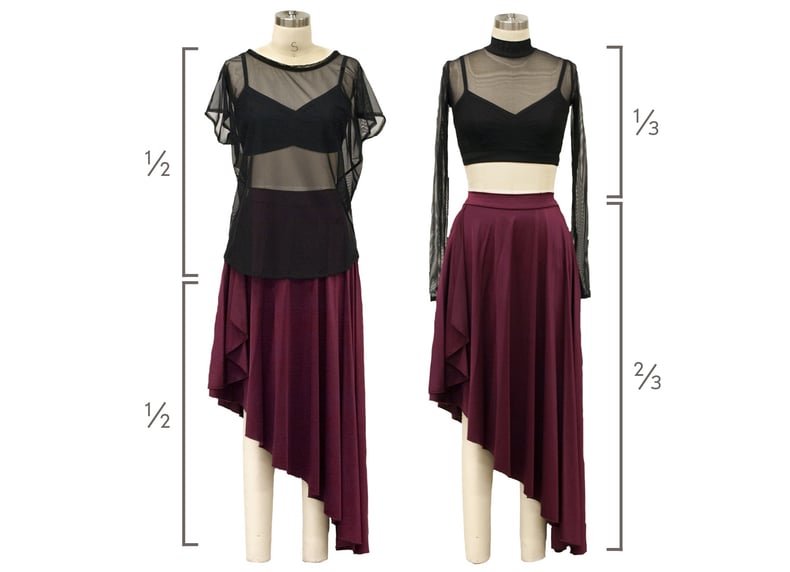 3. Colors and fabrics make a difference.
There are certain fabric colors that aren't universally flattering, especially when it comes to neutrals. For example, blush pink looks great on some, but not others. Similarly, gold next to skin can wash many people out, while illuminating others. Play it safe and avoid nudes, golds, and yellows that don't coordinate well with a variety of skin tones. Stick with white and black or vibrant colors which will look good on everyone!
Consider the fabric sheen as well. Matte fabrics, which absorb light, are more flattering than shiny fabrics, which reflect light (and every bump or flaw along with it!). Consider using matte fabrics for the body of your costume, and shiny fabrics like hologram and myst only as accents.
Learn more about fabrics here: Dance Costume Fabrics Explained!

Colors like nudes, golds, blush pink and yellows don't coordinate well with a variety of skin tones.

Black, white, olive, merlot and navy are great colors that will work with a variety of skin tones.
4. Don't get too busy!
A simple costume with clean lines is always more flattering than a busy costume. Too many patterns and colors can create a busy and distracting costume, even on the most fit dancers! Here are some tips for designing cohesive dance costumes:
Use clean, simple lines and silhouettes. Vertical and continuous lines will elongate the body, while horizontal lines will chop up the body. The less you break up the body, the better! This is why nude jazz shoes always look better than black shoes on a bare leg.
Limit the color combinations to three colors or less.

Trying to incorporate 4 or more colors gets to be too much! Simplify the colors to make it visually appealing.
Balance the colors of your top and bottom.

To do this, make sure the colors of your top are incorporated into your bottom. If your bra band is blue, the waistband of your bottom should be blue!


Less is more! Although the Rhiannon unitard allows for a lot of color options,
it's best to go with a more balanced, tonal look with a pop of a different color from the same color family.
5. Most importantly: proper fit is essential!
Fit is fashion! If your garment does not fit properly, the focus will be on your flaws and not your skills. Here a few tips to ensure your dancers are fitted properly:
Measure your team consistently.

Measurements must be accurate to determine the proper size, so you'll want to use one person to measure the entire team to be consistent. Check out this instructional measuring video for more information!
Check the size chart before ordering. F

ollow the

measurement chart

provided by your costume manufacturer to determine the right size.

You might find your size varies from one company's website to another!
If you are between sizes, go up a size!

A garment that is too large can easily be taken in. A garment that is too small is hard to let out.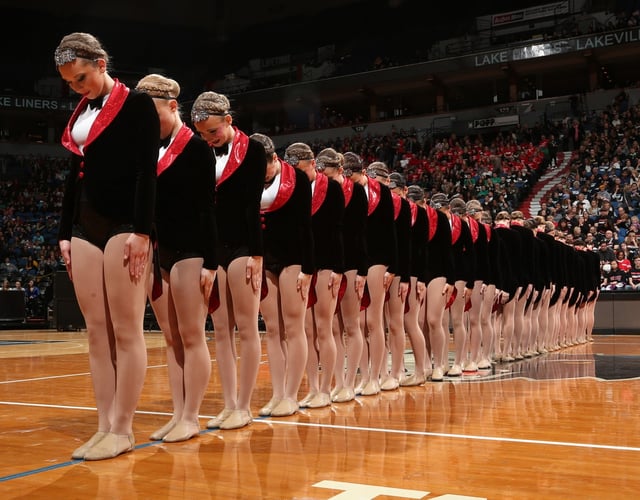 You want to look and feel your best, and a costume that every dancer feels confident in is the first step! What are some of your tricks for designing costumes for the entire team? Let us know in the comments below!
---
Recommended Blogs:
---