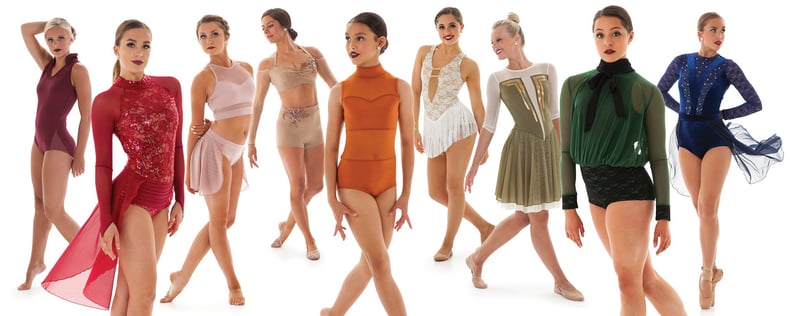 You have your dance costume concept selected and illustrated- Now it's time to choose fabrics!
Regardless of the look you are trying to achieve, the best fabrics for dance costumes incorporate spandex. This ensures that your form fitting garment can MOVE with you when you dance. The fabric you choose depends a lot on your costume concept - do you want something edgy and futuristic (think hologram accents!), or lightweight and elegant (think sheer mesh!).
Below, we break down our go-to fabric options that most costume companies have available. There are plenty of novelty and specialty fabrics out there that make amazing costumes - but here are a few of the tried and true basic favorites that will work for any dance costume!
Dance Costume Fabrics Explained
Tr

icot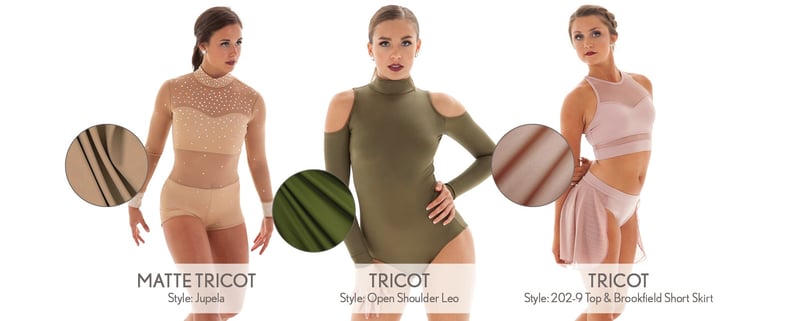 Price range: $
Great for: A solid color basic that can be used for anything!
Description: Tricot is your go-to for a solid color fabric! Pronounced "Tree-coh" with a silent T. This fabric has a slight sheen (shiny Tricot) however some colors are offered with a matte finish. Tricot is the most common fabric found in dance costumes because of the wide range of colors available, as well as it's superior stretch properties!
TIP: Tricot is the best fabric for long term use - the stretch is optimal and it is free of specialty finishes that can dull over time!
Mesh

Price range: $ to $$
Great for: Lightweight skirts, billowy tops, or sheer insets!
Description: Mesh is a sheer, lightweight, and flowy fabric that can work for almost anything! Create an airy feel with a mesh skirt, or an edgy look with mesh cut outs - it's one of the most versatile fabrics available. It also comes in a variety of textures from soft micro mesh to oversized Pop Mesh and Big Hole Mesh.
TIP: Use caution when pairing textured mesh with sequin fabrics. The sequins can snag the mesh and create holes, so be strategic about combining these fabrics on your costume to keep them separate and avoid abrasion against each other.
Common mesh types include:
Micro Mesh

- A basic, lightweight, and solid color mesh, with micro size holes in the weave of the fabric.
Fog Mesh - A micro mesh with a foil-like surface treatment that adds shine and a bit of iridescence. Fog mesh is great for a metailic look, but know that it doesn't stretch as well as micro mesh, and the surface treatment can wear off over time with extended wear.
Tula Mesh - A micro mesh with randomly placed hologram sequins to add subtle sparkle.
Pop Mesh - A textured mesh with larger holes, about 1/4" wide. Pop mesh has a lofty texture, and is similar in scale to a fish net look.
Big Hole Mesh - A textured, large mesh with oversized holes about 1/2" wide.
Hologram and Foils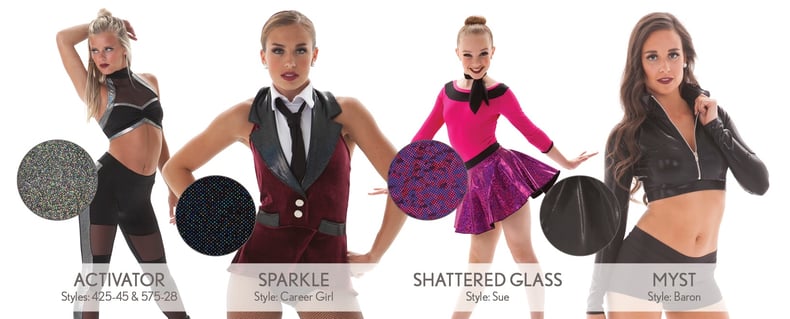 Price range: $$
Great for: Shimmery accents!
Description: Holograms have a foil-like surface treatment applied to a Tricot fabric - great for shine on the floor! We recommend using these novelty fabrics primarily as an accent on your costume, like in trim, collars, or waistbands. When used as an overall fabric, it creates a shiny robot "wet-look", which (to be honest) isn't always the most flattering!
TIP: Use caution with these fabrics if you plan to wear your costume for many years to come. The sheen of Myst, holograms, and sequins will wear and become dull overtime, especially in high abrasion locations like under the arms. With proper care this issue can be minimized and continue to look fresh for years to come!
Holograms come in a variety of styles:
Activator

- Micro dots of hologram for a dimensional sheen.
Sparkle

- Small dots of hologram create a glittery look up close, and a wet look from afar.
Shattered Glass

- Small dots of hologram that create a textured or "shattered glass" look.
Myst

- Micro dots of foil, creating a "wet" look. Black Myst is perfect for a faux leather look!
Sequin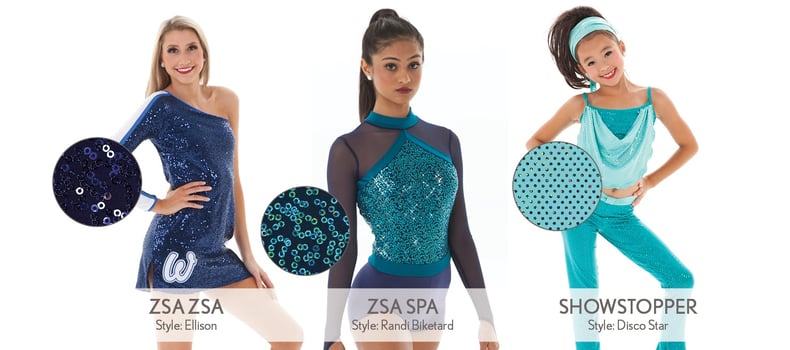 Price range: $$$
Great for: Sparkle!
Description: Sequin fabrics can make your costume POP, and offer the most amount of sparkle at a distance! But that sparkle comes with a few downsides to consider: it's more expensive and it doesn't stretch as well as Tricot. This means you costumes can feel a little more snug, so keep that in mind when sizing.
TIP: Costumes with sequin fabric can also be scratchy - on the back of the fabric and in places where it can rub on the skin, like the under arms or cuffs. This means you may need to add a lining or fabric trim on the edges of your costume, which can add costs. So, make sure your budget allows this when choosing sequin fabrics!
Also, Sequins can dull over time, especially when exposed to chemicals like hairspray and dry cleaning solutions. Know that sequins flake off with use, but from a distance this will not be noticeable. Check out our blog for tips on how to properly wash your dance costume to extend the life of your sequin encrusted costume!
A few types of sequin fabrics include:
Zsa Zsa - A sequin treated fabric, where the metallic sequins are pre-sewn directly to the fabric in a squiggle pattern. This squiggle pattern allows for better stretch, compared to sequins sewn in a straight line! (Pronounced "ja-ja")
Zsa Spa - Exactly like Zsa Zsa, but with hologram sequins!
Showstopper

- Even rows of sequins are applied to this fabric with adhesive, creating a polka-dot look. Glued rather than stitched sequins means better stretch! This fabric can create a sparkly "wet look" when used as the overall fabric of your costume.
Lace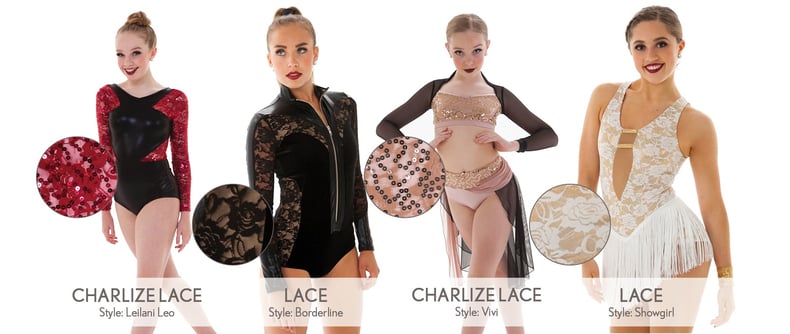 Price range: $$S
Great for: A feminine touch!
Description: Lace has to be one of our most requested novelty fabrics! The romantic look is trending hard, which means a plethora of this sheer, delicate, and feminine fabric. Not all lace is created equally though - you'll want to make sure that it has enough stretch and is durable enough to work for your dance costume, in order to move with you and not tear.
TIP: Even the highest quality lace can be delicate, so think of this when you design your costume! Avoid lace next to sequins (it will snag) or in high impact areas like the knees (it will tear). You also may need to line lace because it is sheer, which can increase costs.
The two most common types of lace are:
Regular Stretch Lace - Available in a variety of floral and scalloped patterns.
Sequin or Charlize Lace - Lace with sequins sewn into the pattern. It adds a little extra glam to this timeless fabric!
Velvet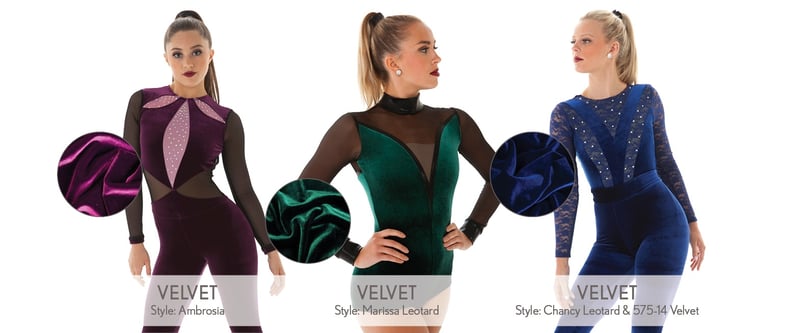 Price range: $$
Great for: Added depth and opulence!
Description: Velvet is a fabric with a fuzzy, dense surface pile, creating a luxurious look. Velvet is BIG right now- and for good reason! With velvet you can get rich, deep jewel tones that you typically can't get with other fabrics.
TIP: The look of velvet can change depending on which direction you are looking at it! This is because of the "nap," or direction of the pile of fuzzy fibers. In one direction it can have a reflective sheen, in the other it can be deep and rich. Velvet also absorbs light, which can give the appearance of a slimmer figure!
---
Things To Consider When Selecting Fabrics:
LONGEVITY - How long will I wear the garment?

Will I need to reorder my costume in upcoming years?

If you plan to wear your garment for more than one year, consider the following:
Delicate fabrics will easily show wear over time! Lace and mesh can easily develop holes, especially in areas like the knees and underarms. Hologram and Myst fabrics can dull over time, especially in high abrasion locations like the underarm or between legs. You may want to use limited amounts or avoid these fabrics if you'll wear your costume for 2+ years.
Specialty fabrics get discontinued frequently, which makes it difficult to recreate your exact costume in the future for reorders. If you'd like to use a special-order fabric, consider ordering extra yardage to have on had for next year's reorders, or stick with stock fabrics to avoid this dilemma!
COSTUME CARE - How often will I wash my costumes, or how will I care for them?
There are some fabrics and colors that are easier to care for than others. Some things to consider about wear:
White is a popular fabric because it is crisp and looks good on everyone, but white can also get dingy over time with use. This means you may need to consider ordering fresh costumes every year if you wear your white uniforms frequently.
White is also susceptible to color bleeding. Color bleeding is when the dye from a dark or vibrant color transfers to another (ex, think of that red sock that turns a whole load of white clothes pink in the washer!). Keep this in mind when designing a white costume - white next to red, black, or another vibrant color means you'll need to take extra precaution when washing your costume.
For more information on costume care, check out our Garment Care

page for instructions and tips!



FIT AND STRETCH - How picky am I about the fit and flexibility of the costume?
Stretch in dance costumes is essential! You'll want your costume to move with you, and allow you to perform at your best. There are some materials that have better stretch than others:
Select a 4-way stretch fabric to ensure the most flexibility for your dancers. This means the fabric stretches in 4 directions (up and down, and left and right), rather than in two directions (just up and down). Tricot is a great option because it has a 4-way stretch and high percentage of spandex (the stuff that makes it stretch) - perfect for dance costumes!
Certain special fabrics, like novelty sequin and lace fabrics, have less stretch. This means they don't have as much "give" and can fit more snug. Keep this in mind when designing (your design may be more limited with a fabric that does stretch), and when sizing (to ensure everyone looks and feels their best in their costume)!
---
Recommended Blogs:
---